Broadway Bets Raises More Than $130,000 for Broadway Cares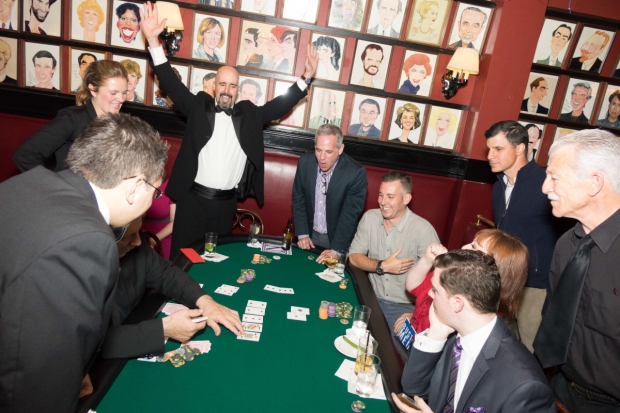 $137,200 was raised for Broadway Cares/Equity Fights AIDS during the May 18 poker tournament Broadway Bets, held at Sardi's and chaired by executives from Jujamcyn Theaters and the Shubert Organization.
The rollicking evening started with 16 classic Texas Hold 'em poker tables filling the two floors of the iconic restaurant. Using skill, strategy, and a bit of luck, 10 players bested more than 120 other competitors to win their way to the championship table. Bill Paness, controller for The Shubert Organization, won the tournament and its prize, a VIP weekend at Foxwoods Resort Casino.
"Broadway Cares presents a number of "capital B" events each spring and summer with Backwards, Bonnet, Bares, and Barks," said BC/EFA Executive Director Tom Viola in a statement. "We are thrilled to welcome a fifth: Bets! Broadway Bets fits like a glove in the midst of them all, bringing a little Texas Hold 'em fervor to that eagerly anticipated annual fundraising mix of fun, excitement and community."
Texas Hold 'em-style tournaments begin with each player receiving an equal amount of chips. Two blinds are posted per hand to force the action. As the game progresses, the amount of the blind bets increases. As players drop out, tables are combined until there is one final table of players competing for the championship title.