5 Reasons to Put on Your Dancing Shoes and Go See Here Lies Love
When David Byrne and Fatboy Slim's immersive disco musical Here Lies Love opened at The Public Theater last spring, it took the theater world by storm. So it was no surprise that when the show ended its limited run, it quickly returned in an open-ended production at the same venue. Alex Timbers' vision of the life and times of Imelda Marcos is a surprising piece of theater in a number of ways. Here we explain five of them.
1. The potential for fist-pumping is not the only benefit to Here Lies Love's unique musical style. Like a remixed Les Misérables, the score plays like an opera, with little dialogue interrupting its rhythmic flow. This is sure to attract young theatergoers with their 140-characters-or-less attention spans. Here Lies Love satisfies the craving for high-speed theater and delivers brilliant storytelling. One bass-heavy song flows into the next with no opportunity for antsy audience members to glance at their cellphones.. The music alone offers all of the historical information and dramatic tension necessary for a theatrically compelling story — plus an opportunity to line-dance along with the cast.
2. We know boogying alongside David Byrne sounds incredibly unlikely, but it could actually happen. Byrne, the lead singer of the band Talking Heads and the mastermind behind Here Lies Love, has been known to show up at the theater and take part in the show. Not only has he donned the neon-pink jumpsuits worn by the stagehands to help guide audiences through the experience, he also enjoys his show as a spectator, jumping and dancing throughout the theater during the show. And if Byrne isn't there the night you go, you might run into one of the many celebs who've checked out this award-winning piece of theater, a list that ranges from Joan Rivers to Marc Jacobs.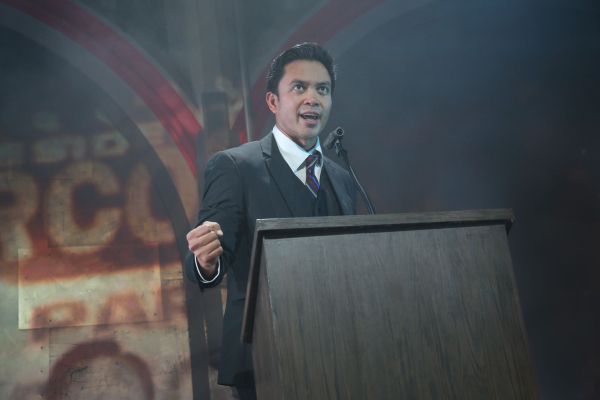 3. Amid the festive atmosphere of this highly stylized interactive dance musical, you're never allowed to forget that everything you're seeing is based on real events. Projection designer Peter Nigrini uses nearly every inch of the set to display historical videos and photographs from the Marcos era. As actress Ruthie Ann Miles gets down onstage, her counterpart, the real Imelda Marcos, parties on-screen with world leaders such as Muammar Gaddafi, Leonid Brezhnev, and Richard Nixon. Chillingly, Nigrini even includes video footage of the tarmac assassination of opposition leader Benigno Aquino Jr. The documentary nature of the show goes beyond the visual: The script is largely drawn from Imelda's own words (given in interviews and public statements over the years). We even hear the deafening sound of U.S. Air Force H-3 helicopters, the type that lifted the Marcoses and their entourage out of Malacanang Palace during the People Power Revolution. As heighted as Here Lies Love is, it is all grounded in real historical evidence. You'll leave feeling smarter!
4. The set of Here Lies Love is unlike anything you've experienced before. It starts with a group of movable platforms. As the scenes unfold, the whole set is seamlessly disassembled and reassembled like a bunch of Legos. When the set breaks apart and comes together again, you move along with it, allowing the action to happen all around you. Throughout the performance, you'll experience the show from several different vantage points, so there isn't a bad square foot of standing room in the whole house. You may even find yourself onstage with the actors, dancing along with the upbeat music in front of the crowd, lending the show a rave-like feel. Here Lies Love gives a whole new meaning to the term stage play.
5. For all its innovation, Here Lies Love is, at its heart, a musical. Its most basic and (arguably) most important element is its score. With Byrne and Fatboy Slim as its creators, this show was bound to feature great songs. In Here Lies Love, these musical geniuses have done something different. Everything about the show is designed to keep you on your feet, and the music is no exception. Fatboy Slim's danceable beats would be welcome in any Meatpacking District basement, and Byrne's vibrant music and lyrics are more rave than Rodgers and Hammerstein — making Here Lies Love a new kind of pop-music theatrical experience.