The Skivvies to Join Cast of Desperate Measures for One-Night-Only Concert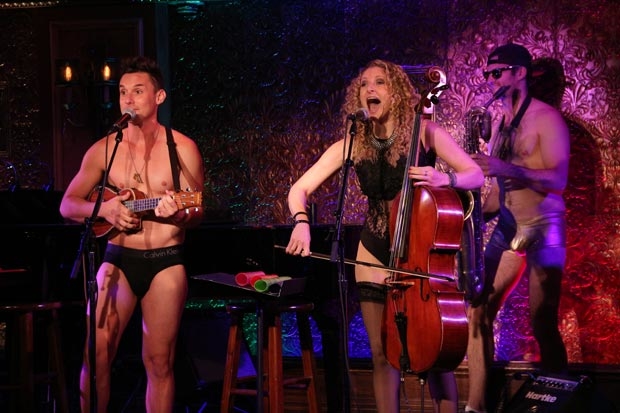 The cast of Desperate Measures will join the musical duo the Skivvies for a concert after the October 24 performance of the show at York Theatre Company. Special guests Nick Adams, Max Crumm, and Rob Morrison will also join.
The Skivvies are made up of both Nick Cearley and Lauren Molina, the latter of whom plays Bella Rose in Desperate Measures. They are described as a "duo of singer-musicians who perform clever genre-hopping musical arrangements that showcase the artists' soaring voices and tight harmonies — all with a minimalist dress code to reflect their stripped-down musical style."
In addition to Molina, the six-member cast of Desperate Measures features Emma Degerstedt (The Little Mermaid) as Susanna / Sister Mary Jo, Gary Marachek (1776) as Father Morse, Conor Ryan (John and Jen) as Johnny Blood, Peter Saide (Skin Tight) as Sheriff Green, and Nick Wyman (Les Misérables) as Governor von Richterhenkenpflichtgetruber.
Featuring a book and lyrics by Peter Kellogg (Anna Karenina) and music by David Friedman (Scandalous), and inspired by Shakespeare's Measure for Measure, Desperate Measures is described as follows: "In 1890, in a territory out West, Johnny Blood, a hot-tempered young cowboy is sentenced to hang for killing a man in a bar fight. His sister, a novice nun in a nearby mission, is persuaded to plead with a corrupt governor to spare her brother's life. The governor promises to pardon Johnny if his sister, the Sister, will 'do his bidding' for the night. Adding to the humorous complications are a hard-bitten sheriff, a voluptuous saloon girl, and a priest who reads Nietzsche." The production is directed and choreographed by Bill Castellino, with music direction by David Hancock Turner.
For more information on the concert, click here.
For more information on Desperate Measures, click here.