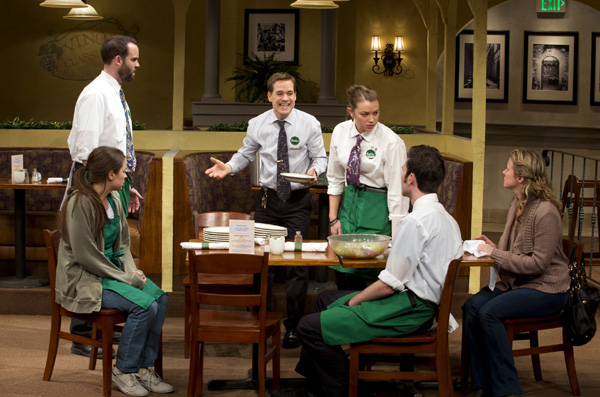 "Towns aren't much different nowadays, Becky," Korean War veteran Cole tells his granddaughter, a moody and intelligent teen who plans on hightailing it from her crummy little town as soon as she reaches her majority. In an America where every exit on the interstate has the same cluster of big-box stores and chain restaurants, will her other options be significantly better? Samuel D. Hunter sheds revealing light on that America (the one we live in today, about which many New Yorkers are blissfully unaware) in his heartbreaking and timely new play, Pocatello, now making its world premiere at Playwrights Horizons.
Eddie (T.R. Knight) is the manager of an Italian-themed chain restaurant in Pocatello, Idaho. He oversees a meager staff of three servers: recovering meth addict Max (Cameron Scoggins), the inscrutable Isabelle (Elvy Yost), and former paper mill worker Troy (Danny Wolohan). A festive banner declares it "Famiglia Week," but it's embarrassingly obvious that this is just a desperate attempt to boost attendance at the struggling eatery. In fact, the only customers seem to be related to the staff.
Eddie's mother, Doris (Brenda Wehle), sits at a table with her other son Nick (Brian Hutchison) and his wife, Kelly (Crystal Finn). Nick is a successful real estate agent in St. Paul, Minnesota. This is his first trip back to his hometown in a long time. He wonders why Eddie hasn't left yet. Troy's wife, Tammy (Jessica Dickey), daughter Becky (Leah Karpel, deftly playing the seed of an interesting person encased in bitter teenage fruit), and father Cole (Jonathan Hogan) occupy a nearby booth before an unexpected eruption by Becky makes it necessary for them to leave.
Eddie's family leaves too, even though he wishes they wouldn't. He doesn't understand why his family is so distant, and why Nick keeps urging him to pack up and skip town. Pocatello is the only home he's known and yet he doesn't feel like he recognizes it anymore.
The transition from an industrial economy to a service-based consumer economy has hit Pocatello particularly hard, with the shuttering of the paper mill throwing much of the town out of work. Most of the small businesses have been replaced by chain stores offering similar goods and services. One might casually dismiss this as part of the natural lifecycle of a capitalist society, but Hunter makes that a difficult endeavor by presenting this evolution in deeply personal, often painful terms.
This is not at first apparent when considering Lauren Helpern's generic and nonthreatening faux-Italian decor: Plastic grapes hang above a round table near the stage-right wine bar. Framed black-and-white photos of Italy are mounted next to never-used colorful plates. Corny music (the kind you might hear at the Italy pavilion at EPCOT) blares from the increasingly static speakers, interspersed with country and pop (sound design by Matt Tierney). "It's what we have to work with nowadays," Eddy sheepishly explains to the ever-judgmental Becky as she rips into the artificiality.
Director Davis McCallum (who helmed Hunter's The Whale at Playwrights Horizons in 2012) accentuates the contradiction of idiosyncratic people in a prefab trattoria by leading his cast to nuanced and strikingly real performances. Playing the oldest character onstage (the one who has seen Pocatello change the most), Hogan offers a frightening mixture of lucidity and senility. Wehle skillfully embodies a very specific type of hardscrabble Westerner, as averse to gluten as to her own emotions. Hutchison and Dickey convincingly portray a couple on the brink, about to be pushed over the edge by emotional and financial strains. It's clear that they've both made decisions in their lives that were not based on a rational cost-benefit analysis. Certainly most of us can relate.
Leading the cast, Knight brings a glow of hope and innocence to Eddie that highlights his character's basic decency. He truly cares about this restaurant and the well-being of its employees, as if he actually owned the joint. In fact, some people might say he cares too much. "Eddie, the only reason to work at places like this is you don't need to care," Isabelle tells him. "You just go to work, try to have fun, and go to the lake on the weekends. And if it closes, there's plenty more places to work down the highway." The downside of having a nationally recognized brand overseen by an army of MBAs is that your employees are only invested as far as their paychecks prescribe.
Hunter has created an intimate portrait not only of fading small-town life, but of the overall "blanding" of America. With perceptive observations of how we work, survive, and love in the 21st century, Pocatello captures this moment in American history with eloquence and massive amounts of heart.