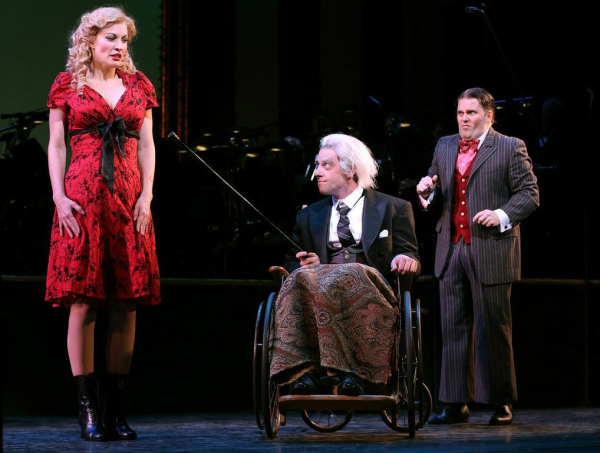 A star is only as good as his or her material. In the case of the Encores! production of Little Me, starring Christian Borle at New York City Center, both are winners. Based on the novel by Patrick Dennis, Little Me features music by Cy Coleman, lyrics by Carolyn Leigh, and a book by Neil Simon. First performed on Broadway in 1962, Little Me perfectly straddles the worlds of old-fashioned musical comedy and modern metatheater for a nonstop laugh fest.
Little Me is the story of Belle Poitrine (Judy Kaye), a glamorous and wealthy celebrity living in Southampton. Author Patrick Dennis (David Garrison) has been hired to ghostwrite her autobiography. Poitrine spins a fantastical yarn about Belle Schlumpfert (Rachel York), a girl from the wrong side of the tracks who falls for Noble Eggleston (Christian Borle), the richest kid in Venezuela, Illinois. Unfortunately, Noble's mother (Harriet Harris) refuses to entertain the notion of her son marrying someone so thoroughly lacking in wealth, culture, and social position. So Belle goes on a quest to achieve those things, in the process becoming the lover of an octogenarian banker, a myopic soldier, a French vaudeville star, and a sickly European prince (all Borle). Much to Belle's distress (and good fortune), all of these men have a funny habit of dying mysteriously.
Simon's book is hilariously imaginative, weaving together a slew of sly references, from the Titanic to The Ten Commandments to Maurice Chevalier. Belle's journey mirrors the rags-to-riches mythology of the United States in the early 20th century, creating the basis for Coleman and Leigh's witty musical pastiche: ragtime, jazz, waltz…it's all there. As is the case with most Encores! shows, this is the first time the full orchestrations have been heard in New York since the original run.
While it's billed as a concert, this mounting of Little Me is something closer to a full production, with easily over 100 costumes and flying set pieces. Still, director John Rando keeps the pace of a concert reading with actors leaping, bounding, and literally doing handsprings onstage and off. You can't really do that in the usual Encores! style, which is with a script in hand.
With multiple extended musical interludes, Little Me at its heart is a dance show. (It was originally directed and choreographed by Bob Fosse.) The daringly acrobatic choreography by Joshua Bergasse seen here 'honors the show's dance pedigree while adding a distinctive flair. From the prim precision of "The Rich Kids' Rag" to the operatic excess of "Goodbye," Bergasse endows each step with a specific intention that also offers plenty of room for individual actors to play. Watching chorus members in the showstopping hoedown "Deep Down Inside" is like viewing an especially complex painting. As nightclub owner George Musgrove, Tony Yazbeck is a wonder of paisley vest-wearing machismo in his dance solo, "I've Got Your Number." A big world of zany characters emerges, offering the perfect backdrop for this ridiculous tale of fame and fortune.
Of course, the biggest characters of all are reserved for Borle, and he does not slouch. The natural comedian creates these lisping, stumbling, heel-clicking grotesques (he plays seven characters in all) with a cartoonish commitment to physicality and comic timing. At the same time, there is a sort of Brechtian self-awareness to Simon's book that Borle is able to draw out in his droll line readings, enriching the comic experience on so many levels.
Little Me is about the American Dream in all its self-styled and thoroughly unbelievable glory. Like reading a celebrity memoir, you aren't likely to walk away with any real insights about how certain people arrive at success. However, you will take away more than a few laughs and a song in your head, which sounds like a fine deal to me.