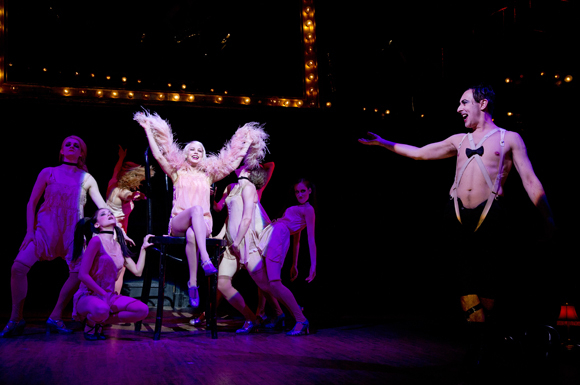 You might fear that this revival of a revival would be stale by now, full of phoned-in performances and dusted-off costumes. You'd be wrong. Sam Mendes and Rob Marshall's radical reimagining of Cabaret was a stunning assertion of the vitality of the original work by John Kander, Fred Ebb, and Joe Masteroff when it opened at Henry Miller's Theatre in 1998. Now, remounted at Studio 54 (home of this revival's original run after it transferred from the Miller), Cabaret feels more relevant than ever. In fact, in this time of global instability, it feels downright prescient.
Cabaret is based on John Van Druten's play I Am a Camera, which, in turn, is inspired by The Berlin Stories, a pair of Weimar-era novels by Christopher Isherwood. American writer Clifford Bradshaw (Bill Heck) arrives in Berlin in 1929, at the twilight of the Weimar Republic. He takes a room in a boarding house operated by the ever-weary Fräulein Schneider (Linda Emond). She keeps an eclectic group of tenants including Jewish fruit vendor Herr Schultz (Danny Burstein) and Fräulein Kost (Gayle Rankin), a prostitute with a taste for sailors.
Berlin is an oasis of art, culture, and sexual liberality. Its vibrant cabaret scene is a font of irreverent political criticism. One such night spot, The Kit Kat Klub, is presided over by a pale and mischievous Emcee (Alan Cumming) who delights in mocking Hitler about as much as he enjoys a good ménage à trois. (He performs acts about both subjects.) Clifford becomes friends (and then, to his surprise, roommates) with Sally Bowles (Michelle Williams), an English chanteuse who regularly appears at the club. Together, they indulge in the hedonistic spirit of the city while they still can. After all, it's not long for this world. Within the next four years, the Great Depression will cause unemployment to surge in Germany, leading millions of voters to embrace the extremist ideology of the Nazi Party.
As Kost, the down-on-her-luck sex worker, Rankin offers a compelling portrait of how the economically disadvantaged embrace the false salvation of angry populism. Struggling to pay her rent (and chided by Schneider for the parade of men coming into the house), Kost tries to proposition Schultz, pitifully cooing, "I'm looking for two marks." He rejects her. Later, at the Schultz-Schneider engagement party, Kost viciously squeezes out on her accordion a Nazi anthem ("Tomorrow Belongs to Me"). All the guests gather around to sing along, while Schultz and Schneider fade into the background.
As Schultz, the unfailingly affable Burstein breaks our hearts, his irrepressible optimism persevering, despite all evidence. Emond's Schneider provides an ideal foil with her cold Teutonic pragmatism. She lets her guard down only at one moment: to revel in the luxury of a pineapple Schultz gifts to her. It's one of the happiest moments in the show, made tragic by the realization that it cannot last.
Williams' performances of club numbers like "Don't Tell Mama" and "Mein Herr" are mechanical and forced. And this is a good thing. Sally Bowles was never written to be talented. Rather, Sally floats along on delusion, throwing doubters overboard. Williams plays her like the walking, talking, flailing essence of "mind over matter." Her grotesquely twisted smile seems to pinch her face, hoping to burst a capillary for color. Sally is just trying so hard and her subsequent failures are devastating for this reason. Williams is Sally Bowles laid bare onstage in all her coked-up, faux-sophisticated glory.
She's backed up by a coterie of abused rag dolls called The Kit Kat Girls. These zombielike chorines wipe the floor with their ratty hair and lap up cash as if it were water in a desert. There's nothing sexy about their heroin chic. The boys fare a bit better with rippling abs outlined in dark makeup. Guyliner abounds. All the boys and girls double as members of the band, which sounds better than ever under the confident baton of Patrick Vaccariello. The entr'acte will make you feel like you're actually in a nightclub, listening to a hot jazz band.
The world of the club (as designed by Robert Brill) envelops you: As in this production's first mounting, the orchestra seating has been replaced with cabaret tables, each sporting a little lamp with a red shade. Cute waiters in skimpy outfits (designed by William Ivey Long) take food and drink orders before the show and at intermission. The Emcee stalks the aisles during Sally's numbers, chain-smoking and hoping to be entertained.
Cumming's Emcee is playfully lecherous as ever, but exudes a knowing ennui from the shadows. He's like a 49-year-old club promoter who has been at it a little too long. He still has a great physique but is no longer tickled by the game. He's seen it all before and nothing surprises him. That is, until the moments before Williams delivers a terrifying rendition of the title song (which she might as well be belting from the deck of the sinking Titanic). The audience is swarming with unfriendly faces, reflected back to us in the Emcee's eyes. They don't find his hyper-sexualized, subtly subversive club act very amusing. The party's over.
In the show's final moments, Cumming's narration takes on an accusatory tone. "We have no troubles here," he spits through clenched teeth, jabbing at the audience. Relatively speaking, he's right. Strident nationalism, the type that targets Jews, homosexuals, and immigrants, is once again ascendant in the world. All that considered, you can't help but feel blessed to be within the inviting confines of a Broadway theater, sipping a signature cocktail, confident in the knowledge that you get to leave this harrowing depiction of the apocalypse.