Chita Rivera: From Tomboy to Ballerina to Broadway Legend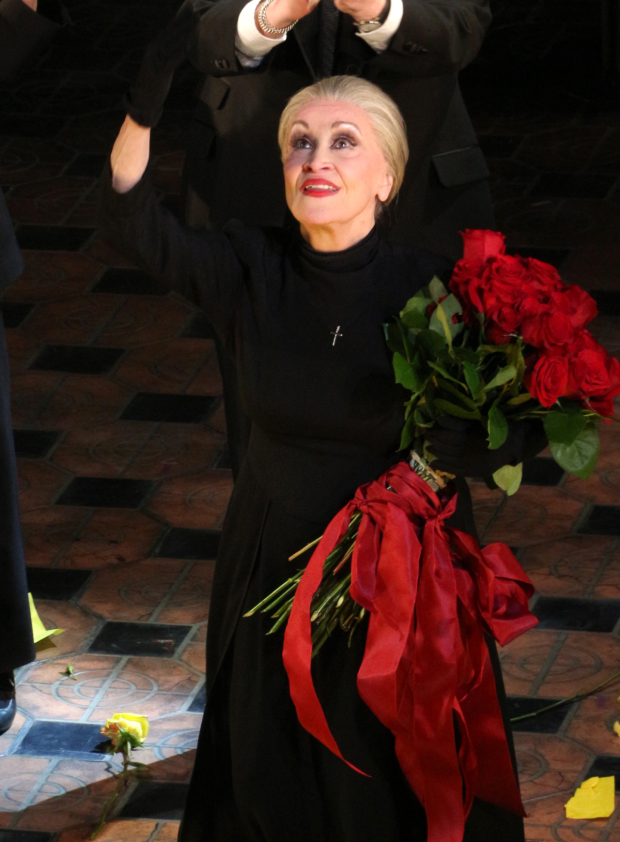 "You're always brought down to a certain level," chuckled Chita Rivera from her dressing room couch, a giant canister of white M&Ms sustaining her through an afternoon of interviews. "You walk into their world."
Perhaps instead she should have said her world when commenting on that of Antoinette "Tony" Perry, namesake of Broadway's illustrious evening of pomp, circumstance, and friendly competition.
Rivera made her Broadway debut in 1953, only six years after the founding of the Tony Awards, and earned her first nomination eight years later for Bye Bye Birdie. This year, the 69th in Tony Awards history, Rivera celebrates her 10th nod (including two wins, in 1984 and 1993), this time for The Visit, a dark musical based on Friedrich Dürrenmatt's 1956 play of the same name. The nomination ties her with the late Julie Harris for most nominations ever received by an actress. But ask if Rivera feels the pressure of that statistic and she gives you a flat no.
"It just doesn't matter," she said. "I don't come back for that — by no means. I come back because I love what I do and I have things to say."
It does, however, put a particularly satisfying bookend on a musical 14 years in the making that started with The Visit's writer Terrence McNally, composer John Kander, and lyricist Fred Ebb (Ebb passed away in 2004). All are nominated for Tonys for The Visit, and they make up the same creative team that earned Rivera her aforementioned '84 and '93 wins for The Rink and Kiss of the Spider Woman.
"We didn't know what was going to happen with Spider Woman. It had bombed in Purchase," she remembered, referring to the show's pre-Broadway workshop in Westchester County, New York. "It wasn't even supposed to be critiqued [there, and] it could have been dead in the water. But it wasn't. We came back to New York and won four Tonys. Or six. I can't even remember anymore." A close estimation, but the show in fact won seven, including Best Musical.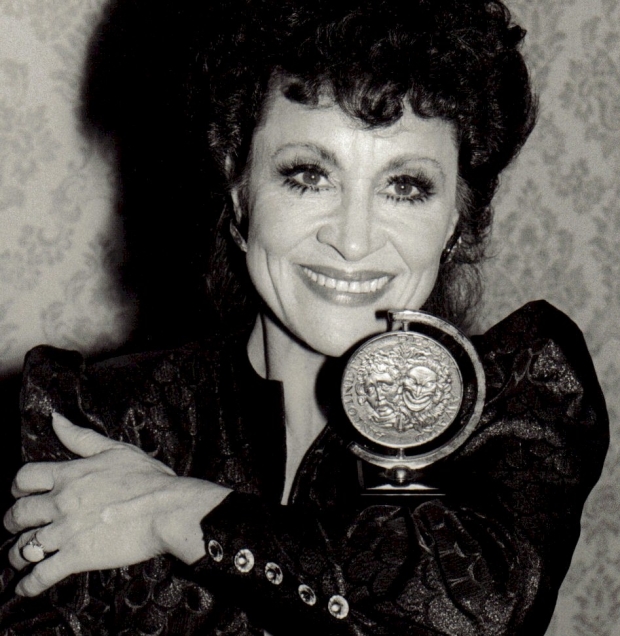 The memory of her first win for The Rink also stays ripe in her mind over 30 years later. "My mother had just passed. I had a black dress on, and when they announced my name I remember my mother standing up inside of me. She was taller so I felt as though I kept going as I stood up. I know my mother was there, so it was a very moving thing for me."
Her mother was the woman who first put Rivera in ballet school as a young girl and self-proclaimed tomboy. "Bicycles, skates, walking the back fences, climbing the trees…I just broke up all the furniture in the house. My mother had to get rid of me," she laughed. "So she put me in dance class." Her unexpected transition to musical theater came at age 17, while accompanying a friend from the School of American Ballet to an audition for the touring company of Call Me Madam. As she recalled, "I had no desire to do a Broadway show,"but the balletic Jerome Robbins choreography called to her. After unexpectedly landing the audition, she immediately phoned her mother. "I said, 'Mom, what do you think? Two hundred and fifty dollars a week!'" To which her mother responded, "Well, if this is what you love…" And the rest is history. As for her ballet career, she's not quite sure how that would have worked out anyway. "I've always had a crazy sense of humor," she snickered, her mischievous tomboy coming out. "So the ballet probably wouldn't have been enough for me. I had to clown around a little bit more."
Over the past five decades of clowning, punctuated by regal Tony ceremonies, Rivera and her posse of collaborators — most notably the great songwriting team of Kander and Ebb who handed her a legendary score in the original Broadway production of Chicago (her second nomination) — have solidified into an iconic unit. And yet, this composite identity has been news to the actress, only coming to her attention during this run of The Visit.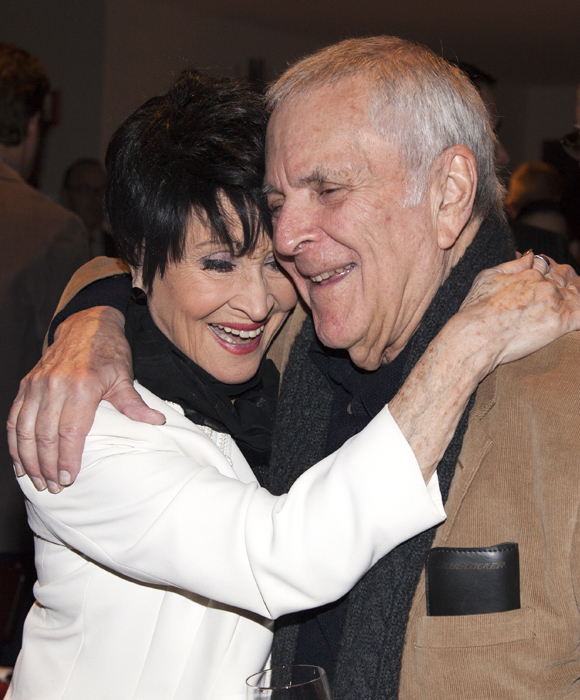 "We don't think about the whole picture. We just think about the art," she explained. "And suddenly you realize that the newspapers say, 'This legendary group of people who have worked together for all these years'…Then you go, 'Oh yeah. We have.'"
These moments of revelation come at some of the most unexpected times — like a trip to Yankee Stadium ("because I'm a diehard Yankee fan," she said for the official records) when "New York, New York" starts to play. "I go, 'Damn, that's Freddie and John!' So I pick up the phone and I call Freddie and go, 'Freddie, they're playing "New York, New York" and fifty-five thousand people are singing it — but they don't know the lyrics!" (Her biting wit was surely in safer hands with Ebb than Maria Tallchief.)
Now, as Rivera approaches the Tony ceremony as one of the awards' most seasoned veterans, what wisdom does she have to impart on newcomers to the frenzy?
"You walk in with a tremendous amount of pride as to what you are doing on Broadway at the time, and you try very desperately to hold on to that," she said. "Even though it's a competition."
"I never did like—" she started to say, though quickly corrected herself. "Well, that's not true. I'm very competitive. I do like to win."