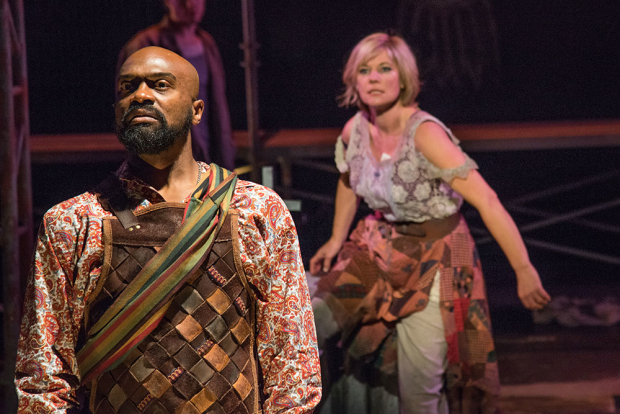 It might be tempting to lump Man of La Mancha in with the golden-age musicals of its time, but doing so ignores the very things that made Man of La Mancha so different. A far cry from the glitzy optimism of something like Hello, Dolly!, the Dale Wasserman-Mitch Leigh-Joe Darion musical had more in common with New York City's experimental downtown theater scene and Bertolt Brecht than the twinkling lights of the Harmonia Gardens or Bob Fosse.
What is thought of as an old chestnut today was once a relatively groundbreaking new musical that gave mainstream theater audiences in Manhattan a taste of how things were being done off-Broadway. It arrived on Broadway in 1965 and became one of the biggest hits of the 20th century.
The revival currently playing at Watertown, Massachusetts's New Repertory Theatre, where it will run through December 31, manages to be memorable not because of the score, its inventive staging, or the show's message of hope and perseverance, but because of how much is wrong with the production.
Vital to Man of La Mancha is its storytelling. Having just been thrown into prison, Miguel de Cervantes (Maurice Emmanuel Parent) and his secretary (Michael Levesque) await a summons from the Spanish Inquisition to explain their crimes, which include heresy and foreclosing on a monastery. But before that happens, they are tried by their fellow prisoners in a mock trial. If they are found guilty (which they almost certainly will be), Cervantes must turn over all of his belongings. Among them is a manuscript that he begs the prisoners not to touch. He decides that his defense will be in the form of a play, and he quickly gets into character (Frances Nelson McSherry's costume design, unfortunately, doesn't always get the time period right).
Cervantes plays Alonso Quijano, a delusional old man who believes that his destiny is to become a knight errant who will "sally forth into the world to right all wrongs." He wishes to be known as Don Quixote and sets off with his squire and friend Sancho Panza (Levesque). The rest of the prisoners join in the storytelling, and the defense proceedings become a play within a play, only occasionally dropping back into the reality of the prison. Through Quixote's endearing and absurd adventures, Quijano wins over his fellow prisoners (and usually, the audience) — all leading to what should be one of the most moving finales of any Broadway musical.
The story's contrasting realities are what normally make Man of La Mancha so affecting: the world of an old fool who gives fantastical meaning to ordinary objects and who sees the mundane as magical, juxtaposed with a cold, hopeless dungeon during one of history's darkest times. For Man of La Mancha to succeed, it must, at the very least, hit the soaring heights of Quixote and the chilling lows of the prison.
But the lines of fantasy and reality are not clearly drawn in this production, haphazardly directed by Antonio Ocampo-Guzman. The production has a story-theater vibe that feels like playtime for actors. While it is true that pulling costumes and props out of trunks has always played a role in this musical, the device is employed lazily here. Giant trunks are scattered around Eric Levenson's ruinous scaffold set, which evokes a movie studio backlot more than a 16th-century jail. A ghost light that stands center stage as the audience walks in does hark back to Brecht, but this device gives the production the feel of a play within a play within a play — something that the Man of La Mancha need not aim for.
The casting of this production is also problematic: Though the ensemble is largely excellent, the leads are miscast. Parent, one of Boston's greatest actors, is effective as Cervantes but isn't a believable Quixote, and his voice doesn't seem a good match for the score. As Aldonza, opera singer Ute Gfrerer is beautifully voiced but gritless. The onstage band's tentative execution of the score doesn't help matters.
Man of La Mancha should have maximum power during these uncertain and politically perilous times. That New Rep's production fails to resonate at all is one of the biggest letdowns of this theatrical year.