EXCLUSIVE: Belarus Free Theatre to Present New York Premiere of Burning Doors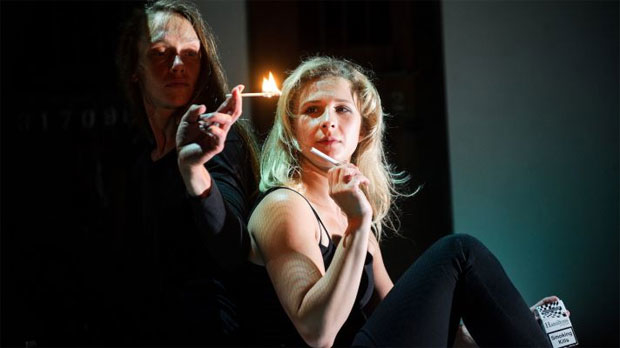 Belarus Free Theatre has announced its return to La MaMa with the New York premiere of Burning Doors, beginning performances October 12 in advance of an October 16 opening. The show will run through October 22.
Devised and performed by Belarus Free Theatre, Burning Doors is directed by Nicolai Khalezin and Natalia Kaliada, written by Khalezin with dramatury by Khalezin and Kaliada, choreography by Bridget Fiske and Maryia Sazonava, and original testimony by Maria Alyokhina.
The cast features guest performer and collaborator Maria Alyokhina of Pussy Riot, the Russian feminist punk-rock group, along with performers and cocreators Pavel Haradnitski, Kiryl Masheka, Siarhei Kvachonak, Maryia Sazonava, Stanislava Shablinskaya, Andrei Urazau, and Marnya Yurevich.
The show is described as follows: "As governments clamp down and walls go up, Burning Doors examines how art persists under oppression, and how artists living under dictatorship illuminate complacency in democratic societies, reminding us of the true cost of freedom and the danger of passivity. Burning Doors draws from the personal experiences of three dissidents who were arrested and imprisoned by the government of Vladmir Putin of Russia — Ms. Alyokhina, Petr Pavlensky, and Oleg Sentsov, a Ukrainian national who has been imprisoned in Russia on terrorism charges after Russia invaded Crimea. In the case of Mr. Sentsov, who has served three years of his 20-year sentence, his experiences are depicted as told to the creators of Burning Doors by members of his family, who have been allowed rare visits and received one smuggled correspondence from him during his time in prison."
Burning Doors debuted last year in London. Before its engagement at La MaMa, the show will be performed by B.F.T. in Seattle at On the Boards from September 28-October 1.
For tickets to the On the Boards engagement in Seattle, click here.
For tickets to the La MaMa engagement in New York, click here.