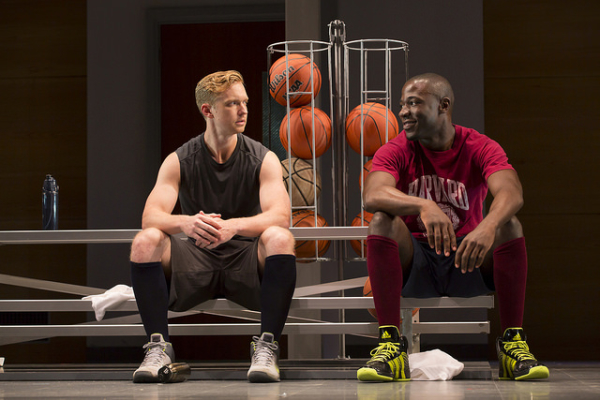 You could call it banter, but the barbs and bons mots traded by a quartet of young professionals in Lydia R. Diamond's very smart new play Smart People, premiering at the Huntington Theatre Company, have some serious underpinnings. Diamond's core topic is racism, in the year preceding Obama's election and — implicitly — beyond. Employing a seemingly light-handed but well-thought-out impasto of fast-paced dialogue, Diamond examines this troubling — possibly ineradicable? — phenomenon from all sides.
All four title characters have links to Harvard — that academic Olympus, one jokes bitterly, from which no "lateral moves" are possible.
Brian (Roderick Hill) is a neuro-psychiatrist pursuing a controversial study of autonomic responses to racial difference: specifically, laboratory experiments suggesting that even self-identified white "liberals" (himself included) may exhibit phobic and/or hostile reactions to images of African-Americans. Brian's own best friend is black: Jackson (the charismatic McKinley Belcher III), a surgical intern who has a self-torpedoing habit of flying off the handle whenever second-guessed by more experienced physicians who happen to be white.
At the play's start, Brian has just begun a prickly relationship with Ginny (Eunice Wong), a tenured psychology professor whose specialty is the self-limiting legacy of Asian-American women, of which she is one. Newest to the circle is African-American Valerie (Miranda Craigwell). The recent recipient of an M.A. in acting, Valerie is supporting herself as a house cleaner — disturbing shades of generations past — while making the rounds of auditions, to often humiliating effect. The scene in which Valerie must parrot "ghetto" dialect represents Diamond at her parodic best.
Perhaps the most touching vignettes are those in which Ginny — a certified MacArthur "genius" and, by day, a force to be reckoned with — takes on the telephonic gorgons of customer service. By turns imperious and masochistic, she clearly craves the battle: victory — i.e., being granted "an exception" — has a special resonance for her. And that taste for victimization will surface in a seduction scenario that will (it's intended to) make your flesh crawl. At several junctures, sexual politics vie with race for ascendency.
All four actors are brilliant in their assigned roles.
The skill with which Diamond has juxtaposed the various personal challenges — and their greater cultural import — beggars superlatives. Huntington Artistic Director Peter DuBois keeps the action crackling, and set designer Alexander Dodge's Mondrian grid of a bi-level set, partitioned by sliding shoji-style screens, means never having to wait for the next charged interaction.
The words come fast and furious, and above all, they're believable. Boston audiences will be debating the implications of what Brian, extrapolating from his own flaws, posits as "a predisposition to hate" for weeks to come (the show has been extended to July 6). And if there's any justice in the world, this play — like its predecessor, Stick Fly, which played Broadway — will find its way to New York, to foment further discussion. Diamond has initiated a compelling conversation, an exchange of emotions and ideas that's bound to get more interesting by the minute.