Review: With Four Women and Two Deer, a Family Fantasy in The Gardens of Anuncia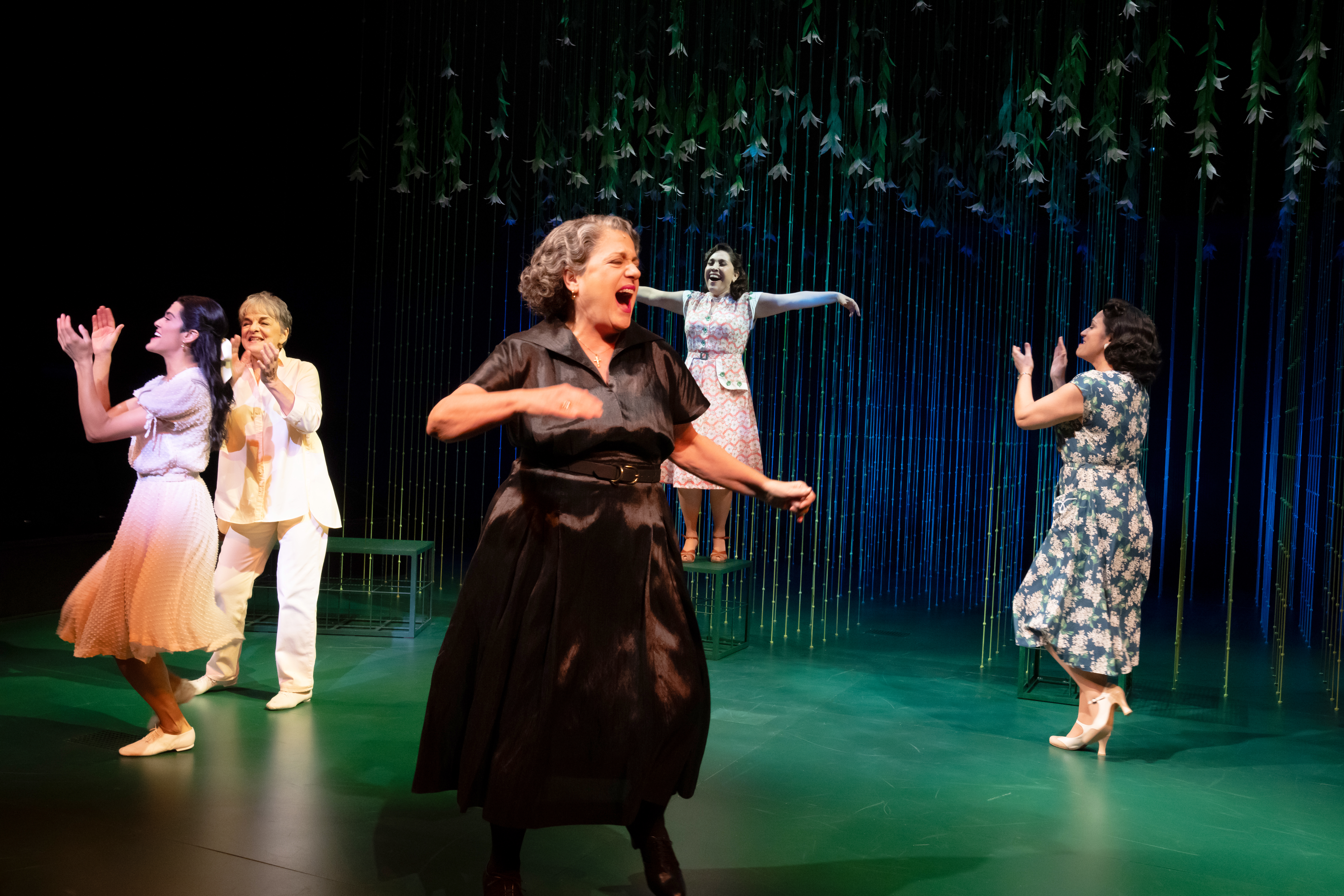 Anuncia hates getting glammed up. She'd rather not put on the fake eyelashes and make the trek into the city to receive her lifetime achievement award; she's much more interested in talking to her tomato plants and the occasional deer that comes her way. And she does have a lot to say, a particularly heartwarming yarn about the three women who raised her in Peron-era Argentina, and how their strength helped guide her to the podium where she'll stand in a few hours.
In Michael John LaChiusa's The Gardens of Anuncia at Lincoln Center Theater, the title character is a stand-in for Graciela Daniele, one of the theater industry's living legends who, much like her onstage persona, is happy to shirk the spotlight. But Daniele has had a life and career that deserves celebration — a ballerina in Buenos Aires, she moved to the States and found a career on Broadway. She danced the "Bolero d'Amour" in Follies and was the original Hunyak in Chicago. She choreographed Once on This Island and Ragtime and earned a remarkable 10 Tony nominations along the way. That's not the focus of this new musical, though.
LaChiusa's subject is Daniele's — Anuncia's — family: her headstrong, tango-dancing mother (Eden Espinosa), her wise-cracking grandmother (Mary Testa), and her aunt, who seems to be lacking a descriptive credential (Andréa Burns). The men in Anuncia's life are largely absent. Her grandfather (Enrique Acevedo) is a sailor, still happily married to Grandmama but living apart (because they both value their life, they say), and her gambler father —"That Man," as they call him — left when she was six. Set amid the Peron regime, the major conflict becomes whether Anuncia (played as a young woman by talented newcomer Kalyn West and in later years by Priscilla Lopez, still as wry as she was singing "Nothing" in A Chorus Line) should stay in a country that imprisoned her mother for allegedly being a political dissident or follow her dream of becoming a famous dancer.
The show is structured around Anuncia's fragmented memories of her family, all of which come to life in the form of compact little arias, beautifully orchestrated with traditional Spanish flavor by Michael Starobin and exquisitely rendered by Deborah Abramson's 10-player orchestra. It's ultimately a lesser score in LaChiusa's illustrious canon — not everything can have the majesty of Giant and Queen of the Mist, or the sheer difficulty of The Wild Party and Marie Christine — but in an increasingly cynical world, it's awfully refreshing to hear smart, simple music like this. The melodies are so infectious that they make you want to get up and dance, or at least shimmy your shoulders in your seat.
The songs serve as mini showcases for each performer, and LaChiusa tailors each role to his actors' strongest suits. Testa can wring a laugh out of anything, but she gets to show a tender side that I often forget she can also beautifully render. It's no surprise that LaChiusa, her frequent musical collaborator, knows exactly how to bring it out of her. Espinosa puts her strong belt to good use, and blends wonderfully with Burns's more operatic vocal tones, yet I couldn't help but think they should switch roles. Acevedo is comically imposing as the grandfather, and Tally Sessions, rounding out the company, plays a pair of tap-dancing deer with the right amount of seriousness and good humor to make the magical appearance of tap-dancing deer funny.
Daniele directs the show with the lightest of touches, allowing the actors to imbue their characters with the sort of warmth and fuzziness that comes with the rose-colored glasses of time (she also choreographs with Alex Sanchez). I do think her production could have been a little more sparkling — Mark Wendland's semi-abstract set doesn't make great use of the Newhouse stage; for a show about a garden, it feels rather empty. But the lighting by Jules Fisher and Peggy Eisenhauer more than makes up for it, adding depth to the story in stirring ways.
If you were hoping for backstage showbiz tea, you won't get it. And you also won't get much about what made Anuncia's — Daniele's — life remarkable. It's a nice tribute to the women who raised her, but does that make good drama? In this case, not quite.