Review: Edgar Oliver Remembers the Strong Cultural Currents of the Pyramid Club in Rip Tide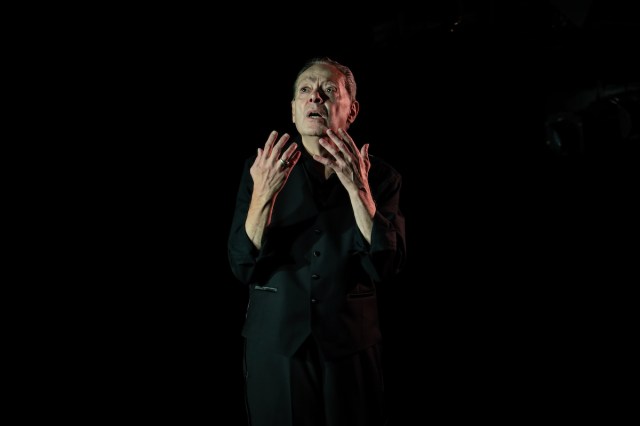 By the time I first visited the Pyramid Club, it was already a mausoleum to a long-dead era of New York. The storied Avenue A nightclub regularly hosted "80s Night" dance parties in the aughts, recalling its heyday as a center of creative and sexual energy in the East Village, back when Keith Haring was a regular guest and RuPaul was a name nobody had ever heard.
If you weren't there, Edgar Oliver will make you feel like you missed out on something magical in Rip Tide, his solo memory play at Axis Theatre. Stylishly directed by Randall Sharp, the piece foregrounds Oliver as a particularly gripping storyteller, which he is. You'd be captivated if he were telling you these anecdotes down the block at the Washington Square Diner, but in the furtive, slightly ethereal confines of Axis Theatre, it feel like a séance summoning the ghosts of the past.
"Innocence" is a word the 67-year-old Oliver repeatedly uses when looking back at his 23-year-old self and the other young misfits he met at the Pyramid. A cultural refugee from Savannah, he found kindred spirits: Bobby Bradley, the gay "Huckleberry Finn" who ran the establishment, who disappeared one day and of whom Oliver has never discovered a photograph; Hattie Hathaway, the frumpy old-lady drag queen who took over after; and Brian Damage, the golden boy costume designer who took young Edgar and his sister, Helen, under his wing, conscripting them into his wild fashion shows and art projects. "He was our best friend til the end," Oliver states, adding matter-of-factly, "which was only about eight years later."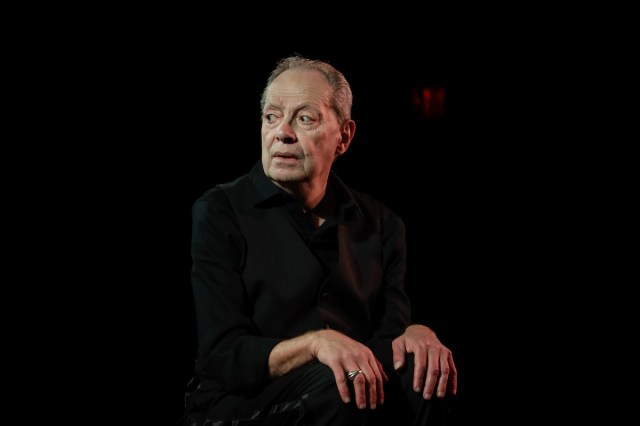 While Oliver was lucky enough to move to New York during a flourishing of transgressive punk and queer art, that time unluckily coincided with the beginnings of the AIDS crisis, which looms in the background Rip Tide. The characters swim up to us in Oliver's vivid recollections, only to be dragged under.
There's more than a touch of the Gothic about Oliver, a quality greatly enhanced by his sui generis accent, which hovers over the Atlantic bejeweled in luxurious vowels. Oliver speaks slowly, almost reverently of "eeehrtists" and "peeehrks" (that "artists" and "parks") and they materialize in our imagination, like spirits conjured from beyond. He is Vincent Price at his most sentimental.
Composer Paul Carbonara underscores this with atmospheric original music and live sound design as produced by a three-person band (Yonatan Gutfeld on piano, Samuel Quiggins on cello, and Carbonara himself on guitar). Gutfield mashes the keys while Carbonara plucks his electric guitar and we can hear the jangle of a golden suit of armor Oliver was made to model one night at the Pyramid Club for a contest called "The Final Fashion Solution."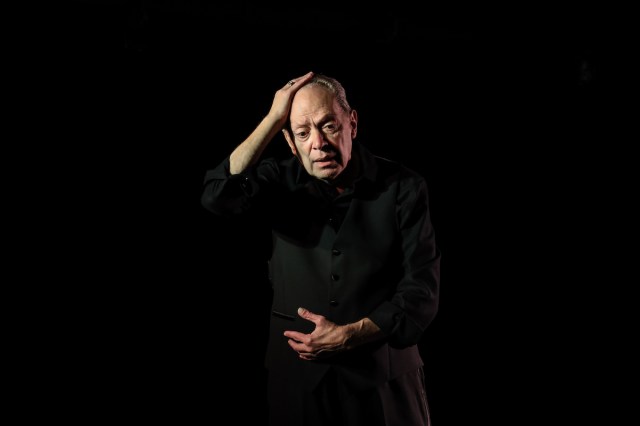 Oliver even recites some of his own poetry and lines from his original plays first performed at the Pyramid, like "Motel Blue 19," a camptastic horror drama about a murderess who runs a motel and haunted house by the beach. The lighting (by David Zeffren) subtly shifts, a faint echo encases Oliver's voice, and suddenly he's back at the Pyramid, playing Quasi, the deranged ride operator.
All of this takes place in the black void of the Axis stage, with a painted black central platform immediately recalling dozens of hole-in-the-wall East Village venues (but especially the Pyramid Club). Karl Ruckdeschel costumes Oliver and the band in all-black outfits, so that they seem to emerge from the scenery. Oliver's tuxedo pants and vest especially seem like items picked up in a second-hand clothing store by a young man attempting to affect a distinctive style to go along with his 19th-century throwback poetry. No set designer is credited, but the sparing yet effective aesthetic is unmistakably the work of the director.
Sharp is one of the most consistent directors working in New York, with an instantly recognizable style that employs muscular sound design and precise lighting, with few visual frills or distractions. It works beautifully in Rip Tide, pulling us into Oliver's world of memory and solitude (this is just the latest of their many collaborations, which include East 10th Street: Self Portrait With Empty House and In the Park). And in just under an hour, it all disappears again. This is the best kind of black-box magic.