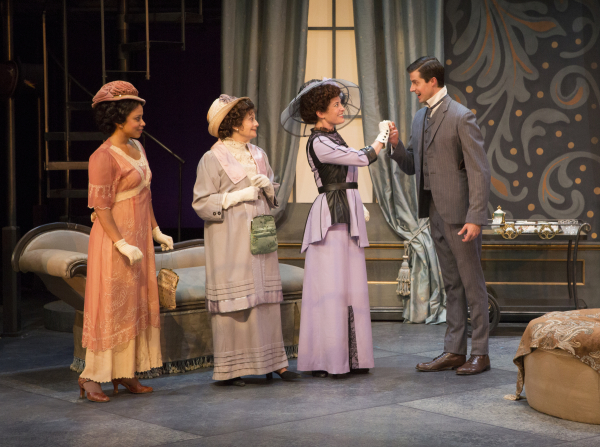 In the realm of George Bernard Shaw, matters so often come down to the power and effects of language. How fitting it is, then, that before the curtain rises on the richly textured revival of Shaw's Pygmalion at the Pasadena Playhouse, a torrent of words — often illegible — come spilling forth in a rapid vertical crawl via Kaitlyn Pietra's projections across Stephanie Kerley Schwartz's set. The Londoners outside St. Paul's Church are discovered chattering away in a cacophonous burble. We can't instantly make out what they are saying, but a tall man with his back to the throng is busily recording every choice word or expression. Turns out he's a linguist of some repute by the name of Henry Higgins.
To characterize Pygmalion as Shaw's wordiest play sounds like a knock despite the fact that language is its thematic calling card, as it is in My Fair Lady, the much-beloved musical adaptation of Shaw's play. In Shaw's version, we witness Higgins (Bruce Turk) berating the lowness and coarseness of flower girl Eliza Doolittle (Paige Lindsey White), but we never actually see Eliza at the phonetic lessons through which Higgins plans to transform our heroine — at least superficially — from gutter snipe to refined lady.
Indeed, while there is no shortage of linguistic philosophizing on the Pasadena stage, so much more is going on as well, from politics (both sexual and social) to the dangers of scientific experimentation and, yes, even a bit of human chemistry. Director Jessica Kubzansky and a ripping-good cast of 12 mine every glorious Shavian nugget and exhibit the results in a display that is as resplendent as one of Leah Piehl's bonnets that makes Eliza look like, well, like a lady.
Nothing May-December about this Higgins-Eliza pairing — Turk's Higgins is every bit on the young side, a soft and entitled snobbish prig. But even before the grime is removed from her face and the dresses start getting expensive, White's Eliza finds her instructor terrifying and magnetic. When Eliza strikes back and pupil and teacher are at loggerheads, a sizzling charge sparks between them. This Higgins goes in for claustrophobic nose-to-nose encounters, whether with Eliza or with her decidedly tougher father Alfred P. Doolittle (Time Winters).
Schwartz's steel and vaguely steampunkish set makes Higgins' laboratory very much a lair for confirmed old bachelors like the Professor and Colonel Pickering (Stan Egi) to rattle around in, fondling medical instruments and discarding their gloves and topcoats at the conclusion of an evening. For all his supposed benevolence even to the lower classes (the genial yin to Higgins' dictatorial yang), Egi's Pickering falls a bit too easily into casual cruelty when around the professor. Kubzansky may not be hinting at any homoerotic impulses between these two men of language who are so ill at ease with women, but this Higgins and Pickering seem to belong together. Fortunately, as played without a hint of nonsense or supplication by Ellen Crawford, Higgins' housekeeper Mrs. Pearce is no man's doormat. In fact, none of the women in this production are.
Both the production's scenery and its dramatic tone shift into sensibility and compassion when the action moves to the drawing room of Prof. Higgins' mother. Mary Anne McGarry's Mrs. Higgins is both crusty and droll, and she has likely experienced a few too many of her son's hissy fits. Turk seems to regress whenever he is under his dame's roof. And when Mrs. Higgins is entertaining the bankrupt Mrs. Eynsford-Hill (Lynn Milgrim, also excellent) and Eliza is also present, Shaw has essentially laid out the entire spectrum of London society.
Ultimately, of course, the thrill of Pygmalion comes down to Higgins vs. Eliza and whether the two have beaten each other too soundly to have a chance at reaching an understanding. White allows us to chart Eliza's maturation in nicely subtle ways. Even at her lowest, this flower girl was never a loudly sniveling embarrassment. Her insistence at being "a good girl" and of having only sold flowers, not herself, contains some real poignancy.
This Higgins doesn't deserve her, but with Kubzansky's handsome production and all of Shaw's wonderful words at everyone's disposal, the delights of Pygmalion are considerable all the same.