A Transparent Musical Eyes 2024 Broadway Run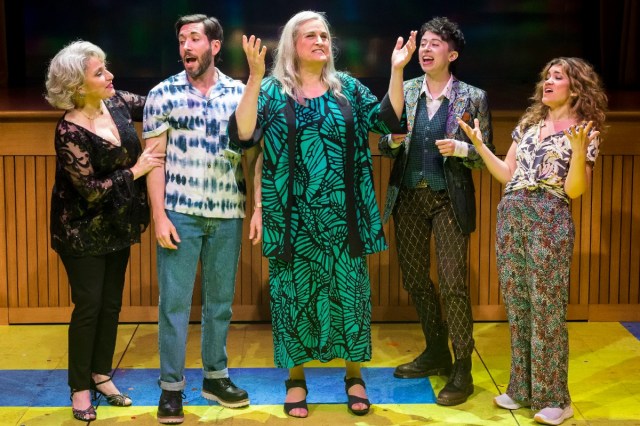 Amazon Studios in collaboration with producer Eva Price has announced intentions to bring A Transparent Musical to Broadway in 2024. The musical had its world premiere in Los Angeles at the Mark Taper Forum and concluded its run on June 25.
Based on Joey Soloway's Amazon TV series Transparent, A Transparent Musical features a book by Soloway and MJ Kaufman and a score by Faith Soloway. Directed by Tina Landau, the Los Angeles cast starred Adina Verson (Ali Pfefferman), Daya Curley (Maura Pfefferman), Liz Larsen (Shelly Pfefferman), Zachary Prince (Josh Pfefferman), Sarah Stiles (Sarah Pfefferman), Kasper (Ezra), Peppermint (Davina), and Murphy Taylor Smith (Rabbi Raquel). Rounding out the cast were Samora la Perdida, Justin Rivers, Futaba Shioda, Robert Pieranunzi, Jimmy Ray Bennett, Pat Towne, Dahlya Glick, Emily Goglia, Alanna Darby, Ty-Gabriel Jones, and Jonathan Ritter.
In A Transparent Musical, audiences follow the Transparent story through the Pfefferman family's youngest child Ali Pfefferman as they navigate the ups and downs of self-discovery. Ali's Los Angeles Jewish family is filled with secrets, but when their parent, Maura, transitions to the transgender matriarch she always knew she was, the family is forced to confront their own identities and navigate their relationships with each other.
Click here to read TheaterMania's review of the Los Angeles premiere of A Transparent Musical.