Some New Jersey Teens Just Did Alien for Their School Play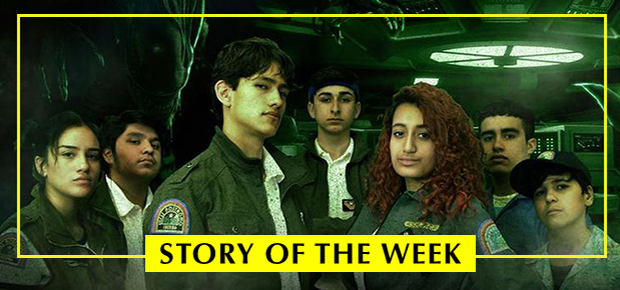 What was the best show your high school drama club put on? When asked that question in the future, a handful of North Bergen High school alums are likely to reply,
Alien
. Yes, that
Alien
.
The 1979 Ridley Scott sci-fi film has become iconic for its camp value almost as much as its ability to induce genuine thrills 40 years later. It's about an alien stowaway that slowly murders most of the crew of a small spaceship. It makes viewers contemplate the terrible thought of being trapped in a tiny place with a remorseless killer, with nowhere to escape but the coldness of space. Horror is hard to do on film, but it is almost impossible to achieve onstage, which makes Alien a particularly ballsy choice for a high school play.
This Story of the Week salutes the ambition of the North Bergen High drama club and discusses how other schools could learn from their example.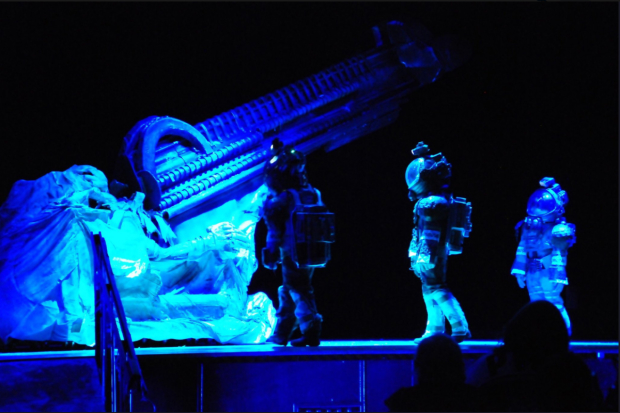 How did they do it?
North Bergen English teacher and drama director Perfecto Cuervo spent a month and a half adapting Dan O'Bannon's screenplay to the stage. Art teacher Steven Defendini took charge of the design, using mostly found and recycled materials. The two estimate that the total production budget was under $3,500. Since the story is mostly confined to a small spaceship (with one brief, fateful excursion to an alien moon), Alien actually lends itself to the theater in surprising ways, like an Ibsen play in which all of the drama happens to take place in the parlor.
Cuervo cast eight students to play seven crew members and one alien. Senior Gabriella Delacruz took on the lead role of Warrant Officer Ripley (played in the film by Sigourney Weaver), while sophomore Xavier Perez portrayed the alien. Six backstage crew members supported their performances, as well as several sound and light technicians. In an interview with The New York Times, Cuervo revealed, "We used a lot of the band kids, because they know how to play instruments and they were really good with the cues."
While the show only played two performances (March 19 and 22), the results look pretty impressive:
I love that north bergen high school did alien last night as their school play, so I'm gonna keep tweeting about how great it is..everything was made from recycled materials .. so nuts amazing I'm so proud of my hometown pic.twitter.com/EEMEbankDz
— Andrew Fernandez (@bhsdrew) March 23, 2019
What has the reaction been?
Ecstatic. Alien has a large online fan base, and they were over the moon to see this amount of DIY creativity lavished on their favorite flick. On top of that, the production has received an outpouring of love from celebrities like Elijah Wood, Paul Scheer, and Patton Oswalt, with many more expressing their awe on social media. The response has been so overwhelming that North Bergen Mayor Nick Sacco is funding an extension, the dates of which will be announced in the coming days.
It's not clear that Cuervo obtained any kind of official permission to adapt Alien for the stage. When asked about it by the Times, he gave a somewhat evasive answer — so we're guessing, probably not!
But if this reaction from Sigourney Weaver is any indication, the original creatives are thrilled to see their film join the ranks of The Crucible and To Kill a Mockingbird as a story enduring enough for scholastic production:
Could my high school do something like that?
Absolutely. In fact, more drama clubs should take a cue from Cuervo and the kids at North Bergen. This is school theater, not a commercial venture, so there's no better opportunity to do the most creative, outlandish, insane work you possibly can — no matter how unstageable it first seems. As original film director Ridley Scott wrote to the drama club, "Limitations often produce the best results because imagination and determination can surpass any shortfalls."
Obviously, vaulting over shortfalls with imagination requires a big commitment of time and energy (the set design team started work in September, with rehearsals beginning in December). It also needs a visionary helmsman, as Cuervo seems to be. But North Bergen High School has proved that such investments can pay huge dividends.
I would love for there to be more DIY adaptations of popular films in our high schools; but even more than that, I would be delighted to see original crossover plays that incorporate characters from the entire range of American mythology, including film, television, and books (Charles Mee has been doing this off-Broadway for years). Who wouldn't want to see the epic confrontation between Regan MacNeil from The Exorcist and Joan Crawford from Mommie Dearest? That episode of Bob's Burgers that imagines a mashup of Die Hard and Working Girl might not be as far-fetched as it first seemed.