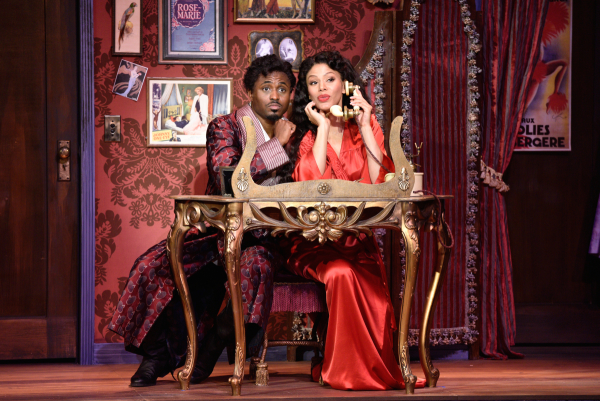 Pasadena Playhouse's artistic director Sheldon Epps and music director Rahn Coleman have updated the musical comedy juggernaut Kiss Me, Kate by altering some of the orchestrations and featuring a mostly black cast to "showcase the trailblazing African-American actors and entertainers of the early 20th century." This production has many dazzling moments, particularly because of the supporting cast, but it's not without its faults in casting and concept.
In this clever musical comedy, a troupe of actors attempts to perform William Shakespeare's The Taming of the Shrew. Because of shenanigans mostly involving the newly divorced producer/star Fred Graham (Wayne Brady) and his famous wife, Lilli (Merle Dandridge), the backstage reflects the tale onstage until both stories collide. Mistaken identity and couple swapping creates confusion and anger, leading Lilli to hate Fred as much as her character Katherine hates his Petruchio.
Bella and Samuel Spewack's riotous book mocks Hollywood, the vagabonds of theater, and even the phony acting of politics. The jokes are silly but potent, and how the Spewacks intertwine Shakespeare – both plot and dialogue – into the modern tale makes it an early meta-musical.
Porter's score, which includes such standards as "So in Love," "Wunderbar," and the showstopper "Brush Up Your Shakespeare," is joyous. He musicalized Shakespearean prose and interspersed it with modern lingo, creating melodies that are enchanting, and lyrics so wicked they can still make jaws drop almost 70 years later.
Several of the songs' orchestrations have been revised in this production. "Another Op'nin' Another Show" has been converted into a gospel number, enhanced by Jenelle Lynn Randall's spectacular singing voice as Hattie. Randall also lends her smoky stylings to "Too Darn Hot," which has been turned into a sultry duo for her and Rogelio Douglas Jr. as Paul. Douglas, an accomplished dancer, gives that number an exhilarating tap-dancing climax.
Terrance Spencer brings cocky charm to the gambling hoofer Bill. He has winning chemistry with his Lois Lane (Joanna A. Jones). Jones steals the show as the ingenue with the wandering eye for any man who could further her career. Sexy, with a powerful belt, she turns "Tom, Dick or Harry" and "Always True to You (In My Fashion)" into naughty burlesque.
David Kirk Grant and Brad Blaisdell play two gangsters after Fred for a fraudulent IOU, and they not only shine with the dialogue but find a way to be just dangerous enough to add tension to their scenes so that the audience believes they are a menace and not just comic relief. The duo also finds innuendos in "Brush Up Your Shakespeare" that maybe even Porter had not intended.
Dandridge and Brady, as these two bombastic actors in a feud-to-the-death, both seem miscast. They have little chemistry, and neither of their singing voices is vibrant enough to be affecting, nor do they possess the acting power to carry these larger-than-life roles. It also doesn't help that the stage combat looks unrealistic, so the audience never really buys that the two truly hate each other to death.
The conceit of Kiss Me, Kate reflecting the African-American experience also seems halfway executed. The first number has been clearly altered, but then most of the other numbers sound like the original orchestrations. The book has been modified little to call attention to the African-American actors' journey itself. And, other than Hattie and Paul, Kiss Me, Kate contains cutthroat characters that cheat, steal, and abuse each other, so it's curious that this show was chosen to reflect the African-American experience. It would have been preferable either for the musical to have been fully reimagined, commenting on both The Taming of the Shrew and Kiss Me, Kate through the eyes of the African-American community, or for the cast to perform the show note for note in its original format, as Pearl Bailey did with Hello, Dolly! on Broadway. Director Sheldon Epps may have dipped his toe into intriguing waters, but he didn't take the plunge.