Review: An Overdue Premiere of Becomes a Woman From the Author of A Tree Grows in Brooklyn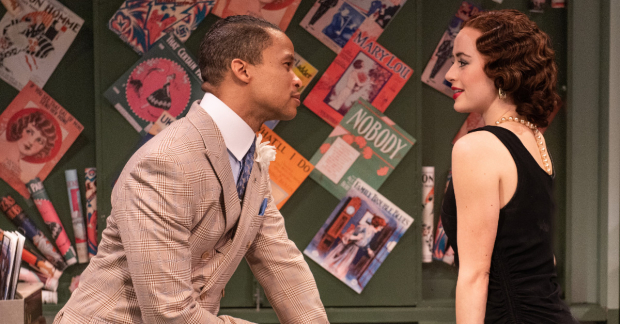 "When someone shows you who they are, believe them the first time": So said Maya Angelou. Of course, we all make the mistake of ignoring red flags when we meet people, especially when we're young and naïve. But the innocent and timid Francie Nolan, the protagonist of Betty Smith's drama Becomes a Woman, sees red flags in all the men who approach her — until she meets an especially handsome, well-off suitor, and then she doesn't.
Smith is best known for her 1943 novel A Tree Grows in Brooklyn, whose main character is also named Francie Nolan. But Smith spent much of her life worshiping and writing for the theater, even if her success there never came close to her renown as a novelist. This is a shame, because Becomes a Woman, now receiving its long-overdue world premiere in a Mint Theatre Company production at New York City Center — Stage II, shows a playwright who not only had a talent for engaging storytelling but was a brave and outspoken advocate for women's rights in the oppressively conservative, male-dominated society of her day.
It's the 1920s and Francie (Emma Pfitzer Price) works at a five-and-dime singing songs for customers interested in buying sheet music (Mary Louise Geiger's lighting and M. Florian Staab's sound design showcase Price and her beautiful voice). Her co-workers Tessie and Florry (Gina Daniels and Pearl Rhein) can't believe how afraid Francie is of everything. How's she ever gonna get a date, much less land a husband, if she keeps turning men down? Francie, suspicious of any man who asks her out, has been brought up in a strict Irish Catholic home by her tough-minded parents (Antoinette LaVecchia and Jeb Brown). But when she lets her guard down and starts dating the five-and-dime owner's dashing son, Leonard (Peterson Townsend), her life takes a sharp turn for the worse and forces her not just to grow up and "become a woman" but also to become a fighter and an advocate for herself after she is abandoned by the ones she loves.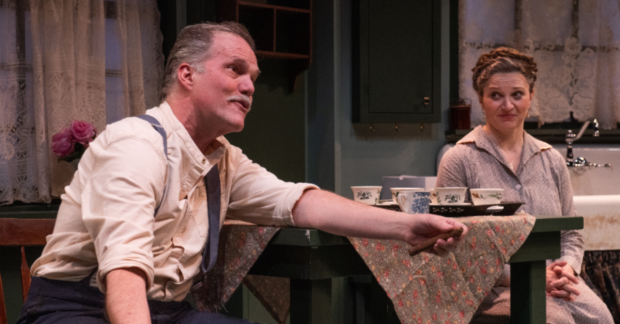 Set designer Vicki R. Davis and costume designer Emilee McVey-Lee do a fine job conjuring the Jazz Age-era store where Francie works (complete with an old upright piano for showcasing Rhein's ivory-tickling talents), along with the tidy but dingy Brooklyn flat where she lives with her parents and two knuckleheaded younger brothers (Tim Webb and Jack Mastrianni). Director Britt Berke teases out Smith's Roaring Twenties-style banter and wise-cracking in the first half to wonderful comedic effect before leaning in to more serious social themes that would not have gone over well with audiences of Smith's time if the play had ever been produced then. It's an astonishingly modern feminist work that was clearly ahead of its time, directly addressing issues that would eventually give rise to the #MeToo movement.
While she had her finger pressed firmly on some big social themes, Smith was not overly concerned with creating complex characters. Yet the cast here make the most of them. Brown plays Francie's father as a cantankerous Irish cop who shouts "shut up" at his wife and demands complete obedience from his children. As Francie's put-upon mother, La Vecchia gives a charming performance, really nailing the Bushwick accent. Christopher Reed Brown gives a comical turn as a suitor whose flamboyant pursuit of Francie is at once funny and annoying. Daniels sensitively embodies the decency and humanity of a woman who has suffered and who would never abandon someone in a time of need. And Townsend is everything you'd expect from a handsome, smooth-talking cad like Leonard, a spoiled scion who lies easily and constantly because he's always gotten away with it. Duane Boutté, as Leonard Sr., shows an equally oily ability to tweak the truth in his own best interests. These folks are in line with Angelou's advice: They are who they are, and they're not going to change.
But Francie does, and Price exquisitely makes that transformation so complete that the Francie we see in the first act looks almost nothing like the Francie of the third (the two-hour, 30-minute play has two intermissions). Gone is the trembling young woman who loses everything yet learns to stand up to a society that's patently unjust to women. It's worth noting that everything that happens to Francie still happens to women today. In many respects, the play reminds us, America and its attitudes toward women haven't changed as much as we'd like to think, either.