Marylouise Burke and James Macdonald Talk — and Stay Mum — About Annie Baker's Infinite Life
This interview has been edited for length and clarity and was conducted in accordance with current SAG-AFTRA guidelines.
The plots of Annie Baker's mesmerizing plays usually defy easy description, so stage mainstay Marylouise Burke and director James Macdonald don't want to discuss or even disclose plot details about Infinite Life, the Pulitzer Prize winner's new work.
"We're being very shy because we just felt an audience should discover the play themselves," the British director says. "Broadly, it does concern chronic illness and desire. Like a proper Annie Baker play, it's going to keep you guessing, and it's going to go down with parts you haven't expected and feature people you hadn't imagined and come to conclusions you haven't anticipated."
The play, which is having its world premiere at the Atlantic Theater Company before heading to London's National Theatre in November, is Baker's first new off-Broadway production since 2017's The Antipodes. Initially titled On the Uses of Pain for Life, it was originally scheduled to debut at the Signature Theatre in 2021, but was postponed due to the pandemic.
Infinite Life concerns a quintet of women in Northern California philosophizing as they lie outside on chaise lounges. It's billed as a "surprisingly funny inquiry into the complexity of suffering, and what it means to desire in a body that's failing you." Besides Burke, the cast includes a bevy of theater notables: Mia Katigbak, Christina Kirk, Kristine Nielsen, Brenda Pressley, and Pete Simpson.
It's also a reunion for Burke and Macdonald, who first worked together on the London production of another Baker work, John, in 2018, with Burke playing the proprietor of the spooky Gettysburg B&B where the play was set. The following year Macdonald cast her as the mother to Ethan Hawke's and Paul Dano's characters in a Broadway revival of Sam Shepard's True West.
A window card of that production, along with several others in which Burke has appeared — Kimberly Akimbo, Is He Dead? and Ripcord, among them — was on view behind her when she and Macdonald discussed Infinite Life in a video interview before an August rehearsal, displaying spot-on chemistry.
"Marylouise is one of the great treasures of American theater," Macdonald praised, to which the actor laughingly quipped, "The check is in the mail!"
Burke, who has demonstrated an uncanny knack for playing characters with an outer quirkiness that hides inner struggles in plays like the original Kimberly Akimbo and last year's Epiphany at Lincoln Center, had done readings of Infinite Life before landing in this production. "One was in Annie's apartment shortly before Christmas a couple of years ago," she recalls.
"It really has been an adventure," Burke says. "Annie's dramaturgy is like nobody else's. She has her own storytelling fashion, and it just works. There's a kind of simpatico with Annie among this group, a lot of mutual appreciation and exploration."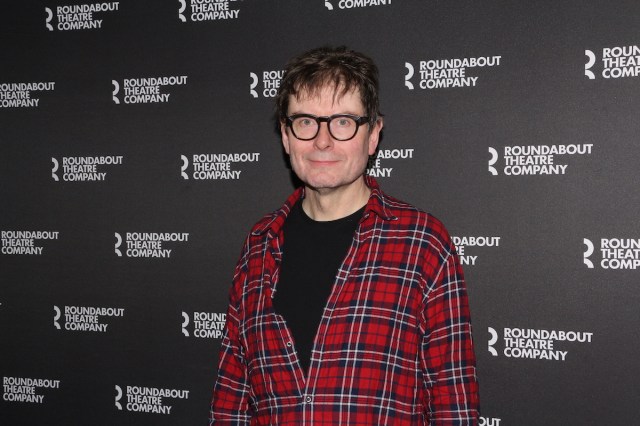 But her hard-to-analyze plays can pose their own set of demands, according to Macdonald. "The particular challenge in her work has always been that the characters are not going to tell you who they are easily, " he says. "That creates an atmosphere of mystery which can be incredibly powerful for an audience. It means you have to build this whole kind of architecture of character that's hidden from an audience — daring to not put that story out there but trusting that an audience will go after it themselves, will be drawn in and fascinated by the people and the world.
"And there are all these characters that I think you haven't seen on a stage before," he continues. "Annie's brilliant at finding people who haven't been represented on a stage…and finding the truth of those people and daring not to over-express them, which wouldn't be true to her aesthetic, which is someone who loves mystery, loves the uncanny." Like John, Macdonald describes Infinite Life as "full of weird things which could be supernatural."
As for Burke, she's enjoying being part of a theater ensemble in the post-pandemic era. "It's so good to get back to it," she says. "We've all been through this unusual, scary, mind-changing experience. I don't know how that affects the work itself, but there's certainly a bond that everyone comes into the room with these days."