Long Day's Journey Into Night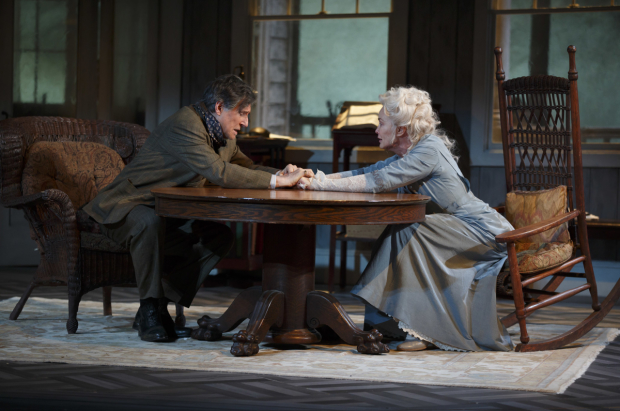 "Every unhappy family is unhappy in its own way," Tolstoy famously wrote at the beginning of Anna Karenina, and the American theater certainly bears that out. Cat on a Hot Tin Roof, August: Osage County, and The Humans, along with dozens of other plays, prove that there are a lot of ways for families to be miserable.
One play, though, has a special place in the "unhappy family" canon. Eugene O'Neill's largely autobiographical Long Day's Journey Into Night wasn't the first American drama about troubled kin taking one another to task, but it is certainly among the most influential for other playwrights of the genre. O'Neill had finished Journey by 1941, when he gave the manuscript to his third wife, Carlotta, for their 12th wedding anniversary, but it was not produced on Broadway until 1956, three years after O'Neill's death. The work stunned audiences with its frankness and confessional candor, and has since come to be regarded as O'Neill's masterpiece.
Long Day's Journey Into Night is now having its fifth Broadway revival in a magnificent production by Roundabout Theatre Company at the American Airlines Theatre. Director Jonathan Kent and an extraordinary cast led by Jessica Lange and Gabriel Byrne have achieved a masterful staging of the undisputed classic.
The play takes place over the course of a single day in August 1912 at the Tyrone family's Connecticut summer home. There is a pall in the air despite the bright morning sunshine streaming through the windows. Tightfisted, retired actor James Tyrone (Gabriel Byrne) is awaiting a call regarding the health of his younger son, Edmund (John Gallagher Jr.), a peripatetic, wannabe writer who has come down with a serious respiratory ailment. James' nervous wife, Mary (Jessica Lange), denies that Edmund has anything more than a bad cold, and her sleepless nights, she claims, are due only to James' loud snoring and the incessant moaning of the nearby lighthouse's foghorn.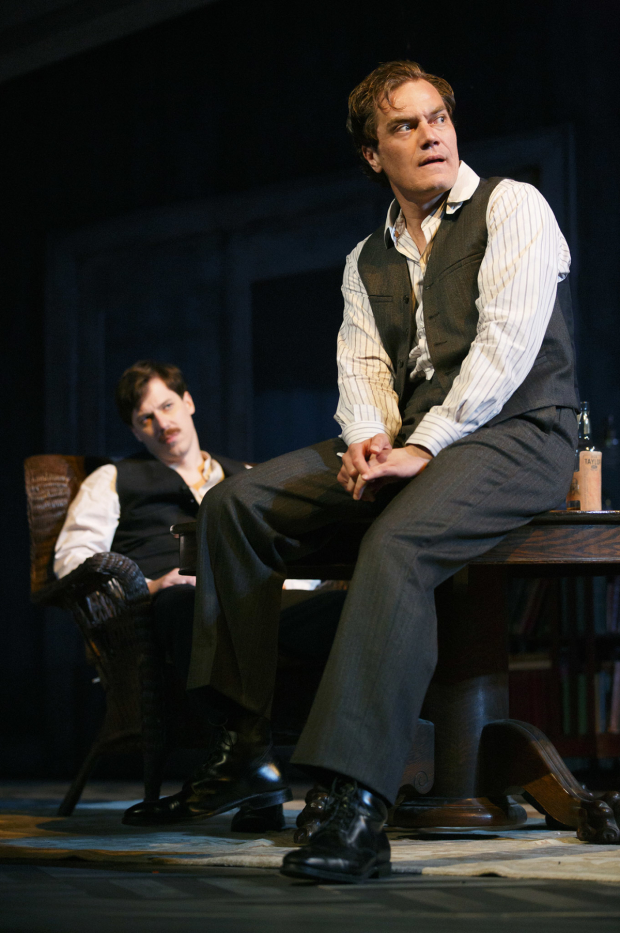 But James and Mary's dissolute elder son Jamie (Michael Shannon) suspects that his mother's nighttime restlessness is a sign that she has begun abusing morphine again, the drug first prescribed to her after Edmund's birth. Mary adamantly denies that she's using, even as she quietly escapes to the upstairs spare room. As the day progresses and the men revisit their own whiskey-induced regrets, the family engages in a vicious circle of recriminations, blaming one another for their failures and for a painful past that refuses to relinquish its hold on the present.
Director Kent focuses on the play's preoccupation with old memories by creating a dreamlike atmosphere from the opening scene as a wavelike curtain drifts across the stage and reveals Byrne and Lange together. The pair have a natural, often charming chemistry, poignantly portraying the long-married Tyrones whose real but weather-beaten love has managed to last over the years because of a steady habit of denial and silence.
Lange's intense performance lays bare Mary Tyrone's loneliness, abandoned dreams, and blatant condemnation of the men around her. With a nervous touch to her hair, she shows us a woman gradually coming undone as she frantically tries to blot out the present and lose herself in a fog of happy memories.
Byrne also gives a brilliantly nuanced performance as the miserly father and frustrated actor who made a career out of a single role and never realized his potential. With his subdued Irish brogue, Byrne portrays James with a gnarly grace, attacking his sons for their abandonment of the Catholic church (the reason he believes they all suffer now) but later withering under the weight of guilt for caring more about money than his family's well-being.
Gallagher plays Edmund (the character O'Neill based on himself) with startling vehemence. It's sometimes hard to believe a man with tuberculosis could shout so loud, but Gallagher effectively embodies the downcast poet, delivering Edmund's well-known maritime monologue with gentle pathos. And in the small role of the maid Cathleen, Colby Minifie brightens the stage with delightful cheekiness. It's easy to forget that O'Neill's characters are often very funny. Kent has to be commended for drawing out the play's rich humor.
It's Shannon, though, with a growling New York accent, who torches the stage in a blistering fourth-act tour de force. His Jamie, having been out carousing at a bordello, returns home, hot with drink, and unleashes a torrent of vitriol and shocking revelations that cut to the bone.
Jane Greenwood's costumes reflect the style of the era with simple lines and subdued colors. The men's unassuming vests and jackets reflect the family's habit of inconspicuous attire, while Mary's long-sleeved dress, a cloudy blue, affords her a convenient means of hiding the injection sites in her arm, which she rubs from time to time.
In other family dramas, dining rooms and kitchens are often the locales for confrontation, but Journey's action takes place in the living room, effectively designed here by Tom Pye. The windows, walls, and ceiling, all shaped at odd angles, hint at the family's drug-induced realities, while an imposing staircase recalls the one in the actual house where O'Neill and his family once summered. Natasha Katz's lighting heightens the surreal effect, by making the walls themselves seem to melt into the billowing fog outside. Meanwhile, the sound of the mournful foghorn, created by Clive Goodwin, bellows low in the distance.
Kent's production runs three hours and forty-five minutes, yet his nimble pacing mostly dissolves all sense of time right through to the last word. O'Neill once said of the play's final monologue (Mary's), "I think that is the greatest scene I have ever written." As delivered by Lange, we understand why.