Edward Watts to Return to the Old Globe's The Grinch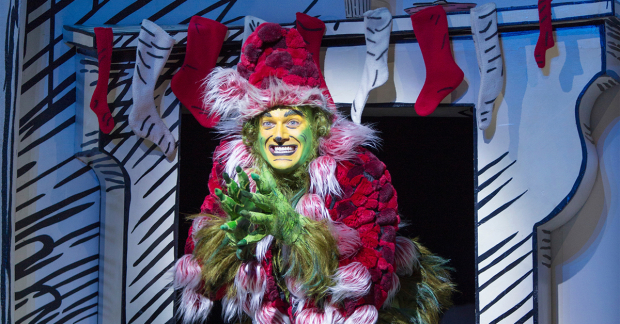 Edward Watts will return to the title role of the Old Globe's Dr. Seuss's How the Grinch Stole Christmas!, beginning performances on Saturday, November 3. The run will conclude December 29.
Watts will take on the role of the Grinch, alongside Steve Gunderson as Old Max, Tommy Martinez as Young Max, and Sadie Tess Coleman and Leila Manuel as Cindy-Lou Who.
The rest of the company includes Robert J. Townsend (Papa Who), Bets Malone (Mama Who), Larry Raben (Grandpa Who), Kyrsten Hafso Koppman (Grandma Who), Zoe Carnot and Audrey Fundingsland (Annie Who), Taylor Coleman and Bianca Rodriguez (Betty-Lou Who), Alexander Ikizyan and Sean Pope (Boo Who), Gavin August and John Perry Wishchuk (Danny Who), and an ensemble consisting of Sophia Adajar, Joelle Dana Advento, Nicholas Alexander, Jacob Caltrider, Janaya Mahealani Jones, Hannah Lee, Lindsay Mains, Sarah Meahl, Mackenzie Nibbe, Arden Pala, Viviana Peji, Amare Phillips, Marcus Terrell Smith, Hailey Topolovac, Kelsey Venter, Stella Grace Wahl, and James Vásquez.
The production is directed by James Vásquez, with book and lyrics by Timothy Mason and music by Mel Marvin. This season's production features additional choreography by Bob Richard and musical direction by Elan McMahan. The creative team also includes John Lee Beatty (scenic design), Robert Morgan (costume design), Pat Collins (lighting design), Paul Peterson (sound design), Anita Ruth (orchestrator), Joshua Rosenblum (vocal arrangements and incidental music), and David Krane (dance music arranger). Original direction is by Jack O'Brien, and original choreography is by John DeLuca.