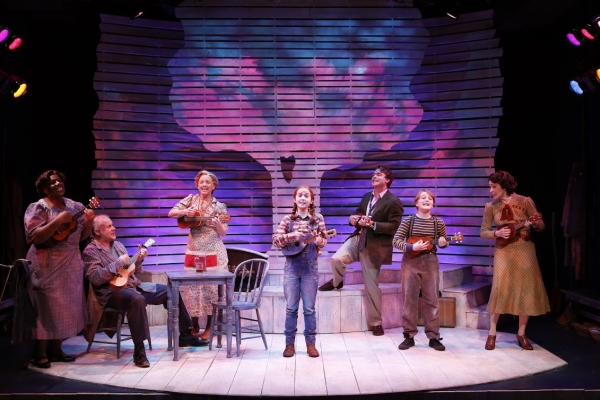 Adaptations are proving the hardest thing to do these days. There's always the question of how faithful something should be. A Christmas Memory, a production of the Irish Rep at the DR2 Theatre, is trapped somewhere in the middle. Based on the short story by Truman Capote, this new musical by Larry Grossman (music), Carol Hall (lyrics), and Duane Poole (book) expands upon the tale, first published in 1956, but still gets stuck in the follow-through.
The story "A Christmas Memory" was inspired by Capote's own experiences growing up in Depression-era Alabama. It's about a friendship between two innocents, the effete young Buddy (Silvano Spagnuolo) and his adult cousin Sook (Tony winner Alice Ripley), and how they bake fruitcakes each holiday season. Life is tough for Buddy, who dreams of being a tap dancer in Hollywood pictures, while he's raised by kinfolk (Samuel Cohen and Nancy Hess) rather than his divorcing parents.
Unlike in the Capote original, book writer Poole structures the show around the flashbacks of adult Buddy (Ashley Robinson), who has returned home to settle the estate (this provides the opportunity for Buddy to narrate using Capote's own lovely prose). Poole smoothly fleshes out ancillary characters, giving them a distinct personality, but he runs into trouble with the two-act format. There isn't enough conflict to justify the length, especially in the second half.
In contrast, Grossman and Hall's score is filled with some real gems, most notably the rollicking ensemble number "Mighty Sweet Music" (where the whole cast plays ukuleles). Also memorable is the second act's stunning, wistful "Nothing More Than Stars," an introspective trio for young Buddy, adult Buddy, and his sickly grown cousin Seabon (Cohen). More intriguing is the way the authors have managed to work in a variety of period styles, like the cakewalk (an entertaining tune called, appropriately, "Alabama Fruitcake").
In director Charlotte Moore's capable hands, the performers demonstrate a real understanding of the material. At the center are Spagnuolo and Ripley, a divine pair with real chemistry as well as a very special onstage relationship. Ripley in particular tears your heart out with a mere glance. As Buddy's grown alter ego, the charismatic Robinson is a dead ringer for Capote, with a slow Southern drawl and black-rimmed glasses. The cast is completed by the affecting Virginia Ann Woodruff as Anna, the soulful family maid, and Taylor Richardson as Nelle, Buddy's childhood frenemy who goes on to find fortune under the name Harper Lee.
While this is an intimate production, the show seems like it's crying out for something bigger. James Noone has designed a pretty wood-planked unit set, and Brian Nason has some nifty tricks up his sleeve for the lighting, but the staging feels like it wants to be in a larger space than that of the DR2, especially toward the end when young Buddy recounts an adventure he had that's filled with 12-foot-tall monsters and daring escapes. Simplicity suits the source material, to be sure, and there's just so much a small company like the Irish Rep can do in this setting. But in the end, it's hard not to have wanted more.