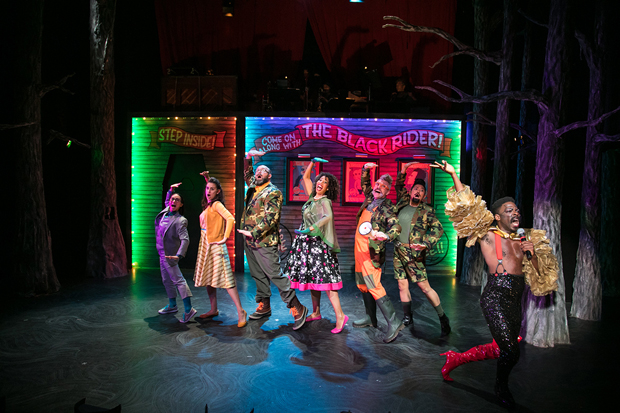 The devil's bargain, as they say, is a fool's bargain. The same could also be said in the wonderfully dark, creepy, and altogether entertaining The Black Rider: The Casting of the Magic Bullets, a modern musical fable by the powerhouse trio of director Robert Wilson, composer Tom Waits, and writer William S. Burroughs.
The Bay Area enjoyed Wilson's epic, avant-garde opera-sized production of The Black Rider in 2004 when it played American Conservatory Theater's Geary Theater with a cast that boasted Marianne Faithfull and Matt McGrath. Haunting and memorable, that production filled the 1,000-plus seats of the Geary with eerie menace and crackling good fun.
Thirteen years later, The Black Rider returns, but in the 120-seat Ashby Stage with an astute production from Berkeley's Shotgun Players and Mark Jackson, long one of the Bay Area's most inventive and consistently rewarding directors.
The scale may have shifted, but the satisfying contrast of this devilish musical has not. Wilson, Waits, and Burroughs took an old German folktale, Der Freischütz (which translates to "the freeshooter"), that had already inspired one opera (by Carl Maria von Weber), and turned it into a musical fable filtered through Waits's eclectic musical taste and Burroughs's history as a Beat poet and accidental murderer (he drunkenly shot his wife while doing their William Tell act for friends).
Guns and the devil feature prominently here, an ever-resonant plot combo in the United States. Kätchen (Noelle Viñas) wants to marry bookkeeper Wilhelm (Grace Ng), but her father (Steven Hess) won't allow her to marry anyone who can't hunt because only hunters "bring home the meat." He'd much rather she marry Robert (El Beh), but along comes Peg Leg (Rotimi Agbabiaka) with a devil's bargain: He offers Wilhelm seven magic bullets that will always hit their target. Six targets are decided by Wilhelm. One belongs to Peg Leg. Though the offer proves irresistible to the love-struck Wilhelm and he grows to crave the hunt, the end will be tragic, and the forest floor will be piled high with bloody bodies.
Director Jackson's lively production immediately strikes a mad carnival tone, combining the feel of a sideshow with vaudeville brio and dingy showbiz razzmatazz for a Rider that feels energized by the sheer joy of telling a grim story weighted by moral and metaphor. At only 100 minutes, the show has the speed of a magic bullet, but Jackson never makes it feel rushed.
Set designer Sean Riley's stage is dominated by 13 towering forest trees, with the five-piece band atop a caravan bedecked with posters advertising the freak show within. Musical director David Möschler's band intrigues with a rich, wild sound that conjures Brecht and Weill using instruments both traditional (tuba, ukulele, pressure-cap marimba) and not so traditional (toy drum set, filing cabinet). With Waits's score ranging from midnight cabaret to lilting love ballad to gospel, Möschler's crew emerges as one of this production's richest rewards.
The cast has exuberance to spare, which comes in handy for the almost acrobatic physicality demanded of the actors. The singing voices vary in power and pitch, but the whole show has such a purposeful rough edge to it that perfection is not high priority here. Among the standout performances are Ng's gender-blind performance as Wilhelm and Agbabiaka's Peg Leg, who feels like a cross between the Emcee from Cabaret and Frank-N-Furter in The Rocky Horror Show. Kevin Clarke as Old Uncle practically steals the show with a solo turn in which he tells a story involving Ernest Hemingway, his agent, a gun dealer, vultures, Burroughs himself, and the evils of Hollywood.
There's a great deal of fun to be had in this shady fairy tale, a merry Mephistophelian musical that provides a Shotgun blast of love, evil, and dark bargains.