In 2012, a performance by the Russian punk rock band Pussy Riot took place inside the Cathedral of Christ the Savior in Moscow. It was a protest show; the group was speaking out against the church's leaders for supporting Vladimir Putin during his election campaign. Later that year, three members of the all-female band — Nadezhda Tolokonnikova, Maria Alyokhina, and Yekaterina Samutsevich — were arrested and convicted of "hooliganism motivated by religious hatred," which came with a two-year prison sentence.
In Burning Doors, a new production at La MaMa by the indispensable underground troupe Belarus Free Theatre, Alyokhina's story comes to life in the most harrowing of fashions. And she is the one who tells it.
Burning Doors looks at three different real-life experiences. Along with Alyokhina's, the company explores the incarcerations of Russian performance artist Petr Pavlensky, who set fire to the doors of the K.G.B. headquarters and spent seven months in jail awaiting trial, as well as Ukrainian filmmaker Oleg Sentsov, who was sentenced to 20 years in prison on terrorism charges that are believed to be fabricated. The show — written by Nicolai Khalezin and directed by Khalezin and Natalia Kaliada — is performed with high energy, though each story feels like a mixed bag of styles that aren't always cohesive. Still, the vitality of the subject matter shines through, especially now.
Part of that is due to the presence of Alyokhina herself, who recounts her experiences of naked gynecological searches and other humiliations with such sharpness that it's almost like she's ritualistically reliving the pain over and over again. Her words scorch us in their brutality, and they only get worse as they build into a shocking, thoroughly terrifying climax. The moment burns itself into the back of our eyelids, leaving an image that won't soon disappear.
Alyokhina's story proves to be the most indispensable one of the nearly two-hour piece. Less successful is a theatricalized staging of Pavlensky's interrogation, with dialogue taken directly from the transcript. Transitionally, it's a little difficult for the audience to figure out what's going on — the actors alternate various roles without much change in costumes and demeanor. And if a viewer misses a projection (the production is in Russian and Belarusian with English surtitles), they stand the chance of losing an important plot thread.
The section devoted to Sentsov, whose imprisonment is ongoing, begins with a football game, where government officials debate his 20-year sentence. "He's a film director? Why do they need him?" one says. "As an example," another replies. "He's a well-known guy. To frighten the Crimeans. There was no one particularly well known in Crimea." This darkly mundane, Pinteresque scene gives way to an extended piece of physical theater where performers balance heavy dishes, bungee jump from the rear stage wall into the audience, and wrestle naked and half-naked with each other to illustrate the physical and psychological torture Russian prisoners go through. Though this moment could have been shorter, it packs quite a punch.
The most pointed moment of Burning Doors comes midway through, when the artifice known as theater is dropped and the house lights rise for a press conference with Alyokhina the person, not Alyokhina the actor, and the audience can ask questions.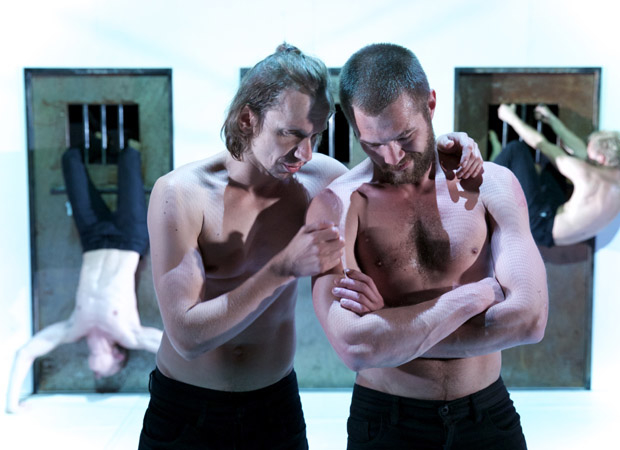 At a recent performance, the questions ranged from awkward — "What should we do about President Trump?" one audience member asked, receiving "What should you do?" in reply — to significant — "Why do this?" "Because of what we're talking about," Alyokhina says.
The show is summed up in a final monologue told in Sentsov's own last words before he was sentenced: "Cowardice is the most significant, and the most terrible, sin on Earth," he said. "There are still some Russians who know exactly what's going on…who understand what's happening around the world…Yet these people are somehow afraid so they sit quietly underground…The only thing I wish for you is: learn to overcome your fear."
Undeniably impactful, this statement is equally important in our own political climate, where activism and protests are steadily on the rise. As we've learned throughout history, the powerful it can happen anywhere and everyone needs to speak out. Burning Doors is the most essential piece of political theater New York has seen in a long, long time.