Thomas Sadoski on Shooting Take Care, Ending The Newsroom, and Returning to Theater
For a number of years Thomas Sadoski was one of New York's most visible stage actors, racking up award nominations for his performances in off-Broadway shows like Becky Shaw and reasons to be pretty (which he repeated on Broadway to Tony-nominated acclaim). He picked up Obies and a Lortel Award for his work in Other Desert Cities at Lincoln Center Theater (which he also did on Broadway). Then, television came a-calling, and it was an offer no one could refuse: a principal role on Aaron Sorkin's HBO series The Newsroom. Though Sadoski didn't disappear from the stage, his TV schedule made doing theater a bit harder.
Now with The Newsroom ending its three-season run, Sadoski is getting ready to "come home" to the stage in Neil LaBute's The Way We Get By, opposite Tatiana Maslany of the TV series Orphan Black. But first there are a few movies to promote. One of them is Take Care, an indie film written and directed by Liz Tuccillo. It stars Leslie Bibb as a woman who has to call upon her ex-boyfriend (played by Sadoski) when she is hit by a car and realizes that her closest friends don't want to take care of her. The role was a departure for Sadoski. In a wide-ranging conversation with TheaterMania, he discusses why.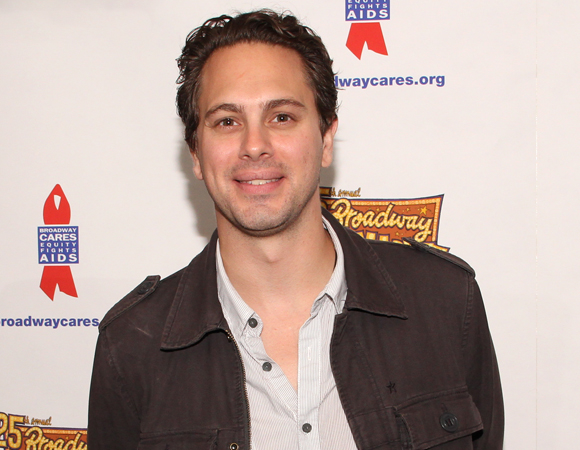 Is this your first time doing a romantic comedy?
To play a lead in a romantic comedy is not something I thought would ever come my way, so when it did, and it was different in a cool way, I was really excited. I was happy to jump on board.
It was described as a romantic comedy, and I see why people think of it [as that], but there's a darkness to it underneath it all…you're dealing with some pretty intense subject matter that, in a way, is gentle and funny, but it was important that we paid respect to the guts underneath it. That was the way we were going to make this different than any other typical romantic comedy.
What was more attractive to you: the script and your role, or the fact that nearly everyone in the cast is a fellow theater person?
I read the script first and loved it, and met with Liz and Leslie and fell in love with them. And then, as I saw the cast come together, I got more and more excited. They attached Betty [Gilpin] and I was thrilled. Then I heard Marin [Ireland, whom Sadoski played opposite in reasons to be pretty] came on board and I was jumping up and down. Yul [Vasquez], [Tracee] Chimo, Michael Stahl-David, and Nadia Djani, all of these people I know. I love these guys and we've come up together. It was a really cool thing for us to make this movie together.
When you first started your transition from theater into film and television, what were some of the surprises you encountered regarding the differences between media?
Theater, ultimately, is a literary art form. It's all about the words. Film is a visual medium. You can engender a lot of a response without having to say anything…it's amazing, when they do a close-up of your eye and throw some violins underneath it, you don't have to talk. For me, it's been a long process of learning to just let that be.
Was working on The Newsroom — a series created by theater vet Aaron Sorkin in which you performed alongside Broadway's Jeff Daniels, John Gallagher Jr., and Alison Pill — a lot like going to work on a play?
That's the thing with Aaron's work: He's a playwright first and foremost. He's writing an eighty-page play every week for the screen…It was no accident that we had these crazy-talented theater artists working on that set. It certainly helped inspire that mood of we're a company and we're doing a play.
How do you feel about closing this chapter now that the show is in its final season?
In some ways it's sad that it's over and it's hard to say goodbye, but in others I much prefer us to go out after three seasons and twenty-five episodes than being stuck in season seven and wondering how we're gonna push the rock up the hill. The part of me that's sad is the part of me that gets sad when a show closes. The little gypsy part of me that's like this is my family and now I have to go off and find a new one.
But you've got a new Neil LaBute play, The Way We Get By, to fall back on. Have you given your costar, Tatiana Maslany, any advice on how to tackle his work?
Tatiana and I have spoken quite a bit about it. I told her what I tell anybody who works with Neil: Neil is an incredibly gracious collaborator and he loves actors. I'm excited that Tatiana gets to come to New York, and that New York gets to see her onstage. Under [director] Leigh [Silverman]'s expert guidance, we're gonna have a great time. It's really good to come home.