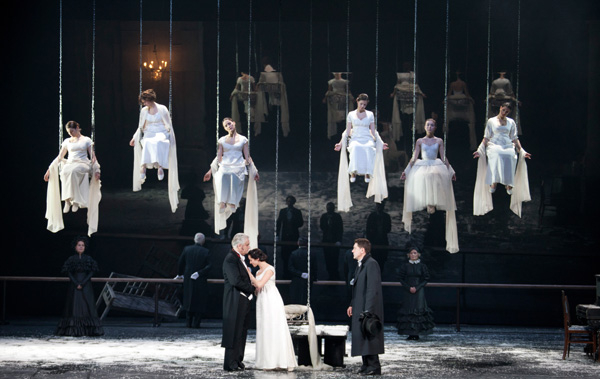 When you dance with a bear, you're going to get scratched. The striking (if heavy-handed) image of a young woman waltzing with the giant animal seems an apt metaphor for her story, and that of every other woman in A.S. Pushkin's No show with id 333 exists!. The touring Vakhtangov State Academic Theatre of Russia brings out all the brutality in Pushkin's epic poem for this thrilling adaptation, which is making its U.S. debut at New York City Center as part of the second annual Cherry Orchard Festival. With bold design and committed performances, Vakhtangov brings Pushkin's story to life in fresh and exciting ways that go beyond the indelible sights and sounds of the famous Tchaikovsky opera.
Eugene Onegin (Alexei Guskov, Viktor Dobronravov) is a young and spoiled Russian aristocrat suffering from a permanent case of ennui. This condition only grows more acute when he inherits his uncle's country estate. He spends his time with his best friend, Vladimir Lensky (Oleg Makarov, Vasiliy Simonov) and Lensky's girlfriend, Olga Larina (Mariya Volkova), the accordion-playing daughter of local gentry. Olga's bookish older sister, Tatyana (Eugeniya Kregzhde), falls madly in love with Onegin, and writes him a letter telling him so. He rebukes her, explaining that he's not the marrying type and warning her to be more careful with her heart in the future.
Yet when Onegin causes a scene at Tatyana's name-day party, resulting in a fatal duel, she begins to suspect that his motives are not altogether altruistic. In a world where women are chattel, she survives and thrives by casting her romantic notions away in favor of cold pragmatism. Of course, Tatyana's unavailability suddenly makes her desirable to Onegin. Like all men, he only wants what he cannot have.
Director Rimas Tuminas has remained remarkably faithful to Pushkin's verse, using much of the author's original language to tell the story. Rather than adapting the poem into scenes with modern dialogue, the actors deliver the verse as written, often directly addressing the audience. The result is several extended scenes of florid soliloquy, which is a tall order for any troupe of actors. Happily, the "honored artists" of Vakhtangov deliver it all beautifully and compellingly.
Ludmila Maksakova stands out in her performance as Tatyana's nanny and dancing master. Her very presence onstage commands attention, while every syllable rasps clearly through the cavernous City Center main stage. Kregzhde convincingly makes the painful transformation from infatuated adolescent to mature ice princess. As the young Onegin, Dobronravov is a vampiric presence, his constant moroseness accentuated by the long black coat costume designer Maria Danilova has placed on his shoulders. Guskov portrays the older, bitter Onegin, who haunts the stage like a specter, occasionally taking over his younger self's crueler lines.
Guskov often sits and drinks beneath the play's killer prop: Tatyana's letter. After it is torn up, it is reassembled and carefully placed in a frame, a permanent reminder of how Onegin came to cherish her love only after it was too late. Set designer Adomas Yatsovskis has fashioned the stagecoach that carries Tatyana to Moscow to find a husband so that it resembles a giant gothic coffin.
Composer Faustas Latenas underscores much of the play with his melodic and memorable original music. Ruslan Knushevitskiy and Vadim Bulikov's muscular sound design further colors the proceedings in spine-tingling, rush-inducing ways. This is a magical world. At the same time, its character and relationships are uncomfortably familiar.
The resulting experience is a feminist fairy tale of a patriarchal society in which women are stepped over, stolen from, tossed around, and packed into a little box to be shipped away and sold. In this staging, Pushkin's shrewd observations of Russian society become a radical critique not only of the author's era but also of the institutional misogyny that has persisted. As they hang Tatiana's fractured letter stage left, several actors stare out at the audience accusingly.
Admittedly, at three hours, 20 minutes (with one intermission), Eugene Onegin is not for the faint of heart or restless of leg. It's a lot of poetry to take, even for native Russian speakers. (English supertitles appear above the stage.) Yet after witnessing this sensory feast, I could easily appreciate what they say: In Russia, the text is the last bullet you shoot at the audience.